[Written by Talbot Wilson] Ask anyone who has done it… The Onion Patch is one tough series to win. It is a challenge to yacht, skipper and crew to prevail in these three spectacular events and venues.
The Onion Patch series had two winners in 2014, Jim Madden's Swan 601 Stark Raving Mad VII won the traditional IRC series and the Henry B. DuPont Memorial Trophy. William Riley in his Pearson 39 Simpatico won the new ORR scored Navigator's Race Series and the new Richard Kempe Memorial Trophy.
Mrs. Neil Kempe presented the new trophy in her husband's memory. Dick Kempe, a past commodore of the Royal Bermuda Yacht Club, was instrumental in introducing the Cruiser Division into the Newport Bermuda Race in 1990.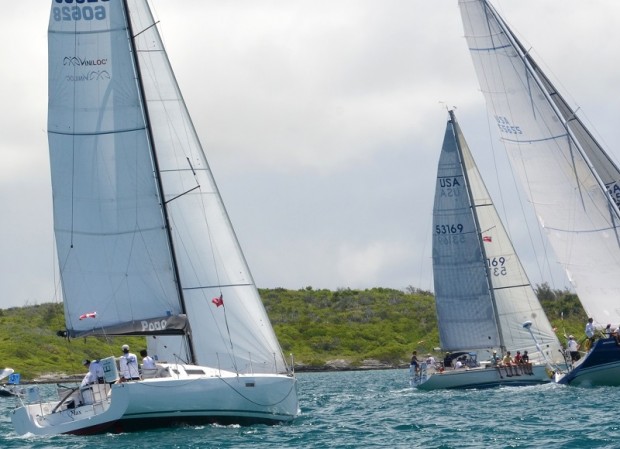 Organizers had added a new, more relaxed Navigators Race Series format for the 25th running of the traditional series. The NYYC and RBYC each added a round the cans flexi-course for each day of racing. The new series for cruiser oriented race programs was scored under ORR ratings.
In the IRC series, Madden's Stark Raving Mad had a 6 in the NYYC Annual Regatta, a 3 in the Newport Bermuda Race among the Onion Patch Entries, weighted at 1.25 and a 2 in the RBYC Anniversary Regatta for 11.75 points.
Second place went to the US Naval Academy TP52 Constellation skippered by Josh Forgacs scoring 11-1-1 for 13.25 points. Third place was Rives Potts' McCurdy & Rhodes 48 Carina with 5-4-5 for 15 points.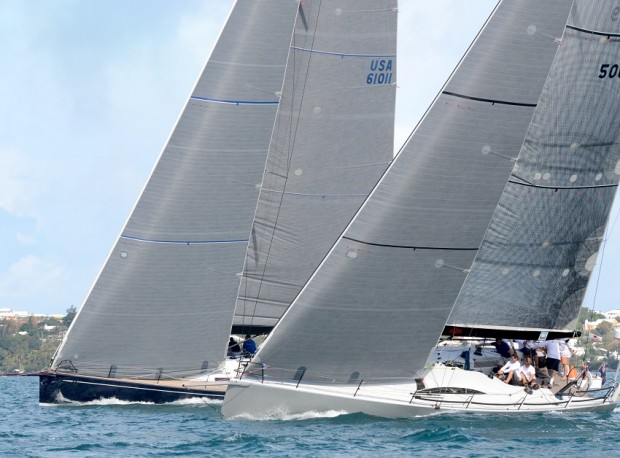 In the new ORR series, Riley's Simpatico scored 1-1-3 for 5.25 points. Glenn Doncasters Sabre 426 Nanuq was second with 4-1-3 for 8.75 points. The Mass Maritime Taylor 41 Temptress settled for third 2-4-8, deciding not to race in the RBYC Anniversary Regatta.
Three teams competed for the Onion Patch Trophy. The Storn Trysail Team— Andrew & Linda Weis' Christopher Dragon, Leonard Sitar's Vamp and James D. Bishop's Gold Digger topped the field team nipped the field with 72 points. The USNA team was just 1.75 points behind. Constellation, and two Navy 44's Swift and Defiance represented the Naval Academy. The NYYC Blue team— Carina, Entropy and Temptation— was third with 98.25 points.
For all the results see here.
In 1962, the Royal Bermuda Yacht Club donated the Onion Patch Trophy for the series and the first competition was held in conjunction with the 1964 Newport Bermuda Race. In 2014, the series was sailed for the 25th time. The series consists of racing in the New York Yacht Club Annual Regatta, the Cruising Club of America-Royal Bermuda Yacht Club Newport Bermuda Race and the Royal Bermuda Yacht Club Anniversary Regatta.
Read More About