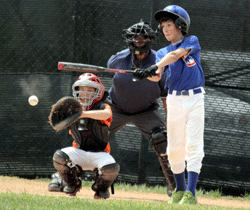 First place was on the line when the Cubs and Orioles met up in their Cal Ripken Division YAO Baseball match at Kindley Field.
Both teams suffered from the jitters in the first inning, each of them plating three runs before the starting pitchers settled in. Alex Bordage of the Cubs was the star of the game, pitching into the fifth inning and helping his own cause with a triple and inside-the-park home run.
Ziare Lodge had the defensive play of the game in the third inning, robbing the Orioles of a sure triple with a back handed stab of a line drive. The score remained tied at three until the Orioles fourth, when Aiden Macphail led off with a triple to deep center, later scoring on a passed ball.
The Orioles would add another four runs in the bottom of the fifth for what looked like a comfortable five run lead. The Cubs would make it a tight finish though, scoring four in the top of the sixth, coming up one run short. Connor Somerville, Liam McCue and Narsje Brockington each scored twice for the Orioles, with Jackson Spurling and Sam Resnik doing the same for the Cubs.
In the end the Orioles would come out on top 8-7.
The Yankees and the Phillies exchanged the lead five times in their game, but the Yankees came out on top with the 8-4 win.
The Yankees finally managed to grab the lead after a strong fifth inning. A walk by Leo Harris scored Viggo Jabon and gave the Yankees the lead for good.
Somers Mello had two extra-base hits for Yankees. He singled in the fourth and doubled in the second and sixth.
The Phillies couldn't get anything going as long as Nic Martin was on the hill. The Phillies managed just two hits off the Yankees pitcher who allowed no earned runs, walked none and struck out seven during his three innings of work. In the bottum of the first, the Phillies grabbed the early lead, 2-0. Kaelin Paynter started the rally for the Phillies with a single, James Ives singled, bringing home Micaiah Furbert and Kaelin. A fifth inning rally gave the Yankees the lead for good, and built on the lead with two runs in the sixth.
Read More About