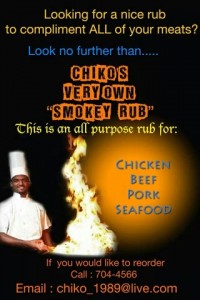 A new rub made by a young Bermudian chef was a hit at Harbour Nights on Front Street, leading both locals and tourists to purchase it in droves, with some going so far as to request overseas shipping.
Called Chiko's Smokey Rub, the all-purpose meat treatment was created by Chef Michiko Campbell.
Able to be applied directly to the surface of meat prior to cooking in order to add a unique flavour, including chicken, beef, pork, and seafood, the rub is also recommended as a topping for dishes like stir fry and french fries.
The popular rub's young creator studied at Johnson and Wales University to become a professional chef with scholarships from the Bermuda Department of Tourism, the Ministry of Transport, and Royal Caribbean Cruise Lines International.
It was at Johnson and Wales University that Mr. Campbell demonstrated his prowess at another form of craftmanship, building and flying two six foot Bermuda kites which earned him campus-wide recognition.
While at University, he also took a mixology class where he learned to put together a variety of seasonings to tasty effect.
Working alongside Mr. Campbell in launching his latest creation is his fiance Sherelle Simons, who owns local business Rellz Hott Graphics.
With Ms. Simons creating the necessary promotional material for Mr. Campbell's product, including banners, posters, flyers, bottle labels, t-shirts, and even a DVD that was shown on a flat screen television during the Harbour Nights debut of Chiko's Smokey Rub, and Robbie Rogers from Bermuda Sign Painters printing the materials, the seasoning was left to speak for itself as patrons frequented Mr. Campbell's stall in order to sample and purchase it.

For more information about Chiko's Smokey Rub, please visit its Facebook page, visit Chef Campbell at Harbour Nights on Wednesday evenings at his stall across from Onion Jacks on Front Street, or order by calling 704-4566 or emailing chiko_1989@live.com.
Read More About