A luxury perfume originally created in the 1800s, and hidden in a Bermuda shipwreck for 150 years, is now available to purchase after a meticulous, first-of-its-kind re-creation process.
A launch event was held last night [Sept 23] in New York, with those in attendance including actress Catherine Zeta-Jones, Senator Jeff Baron, Minister of Tourism & Transport Shawn Crockwell and Premier Michael Dunkley.
"This perfume waited 150 years to be worn. And now, finally, it can be," said Isabelle Ramsay-Brackstone of The Bermuda Perfumery after unveiling the fragrance at the New York City launch event.
"We released a limited edition of the Mary Celestia fragrance last night and already there is a buzz. Just 1,864 bottles will be offered to honor the shipwrecked Mary Celestia which was hiding this perfume when it sank off Bermuda in 1864."
The limited edition Mary Celestia is packaged in a genuine Bermuda Cedar box: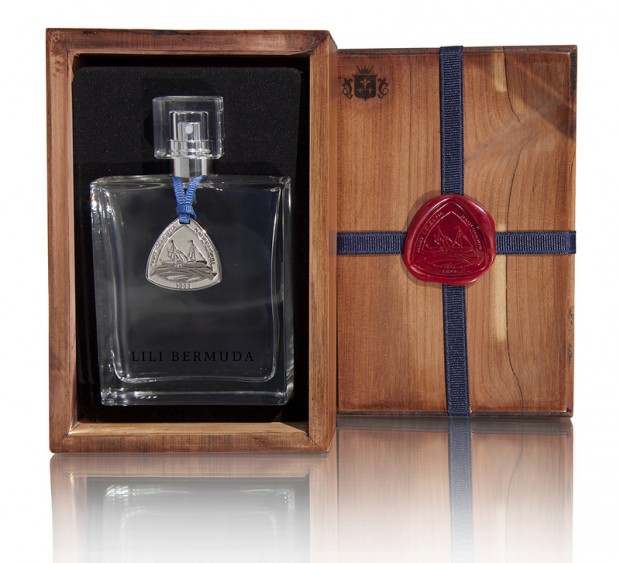 The opportunity to wear history will begin October 1st, 2014, when the limited edition goes on sale exclusively at The Bermuda Perfumery's Lili Bermuda boutiques in Hamilton and St. George, Bermuda.
Purchasing will also be available online at LiliBermuda.com for mail order shipping around the world. A pre-order process is underway now in stores and on the web.
The retail price is $225 and part of the sale proceeds will go to a new foundation to preserve and promote Bermuda's shipwreck heritage.
In September 1864, exactly 150 years ago, the Mary Celestia, a Civil War Blockade Runner sailing to Charleston, South Carolina, sank off the south shore of Bermuda.
An international team of Marine Archeologists discovered a well-hidden cargo of perfume bottles in the ship's bow in 2011, after a Bermuda storm blew through and shifted the wreck.
Isabelle Ramsay-Brackstone explains the Mary Celestia fragrance display to Senator Jeff Baron, Minister of Tourism Development & Transport Shawn Crockwell and Catherine Zeta-Jones during the Mary Celestria fragrance launch event in Tribeca Tuesday evening.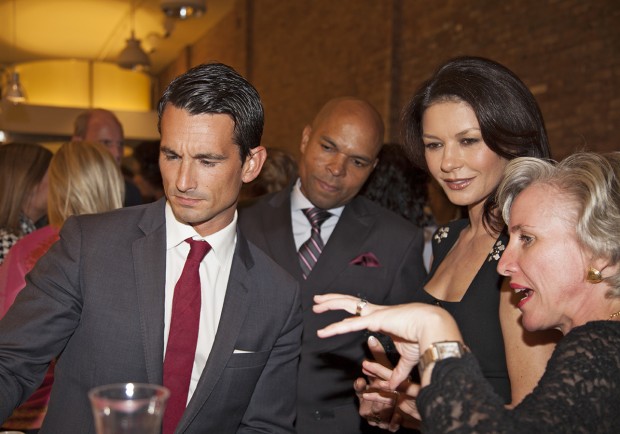 The intact bottles were embossed Piesse and Lubin London, signifying they came from a now defunct perfume house on Bond Street in London. It was a place sought after by the world's elite and its perfumer, G.W. Septimus Piesse, who wrote the first book on modern fragrance-making in 1857 called The Art of Perfumery.
Later it was determined the precious cargo of perfume – smuggled during the Civil War – was likely en route to the neck of a wealthy woman in the American South. Now, 150 years later, the perfume's journey is complete.
Drom fragrances conducted an exhaustive scientific analysis of the ancient perfume and the results were used to re-create the fragrance as if Piesse was in his studio today.
Jean-Claude Delville, drom's perfumer, said: "In perfumery, opportunities like this don't come along too often. Opening the bottles was like going back in time 150 years. I was shocked at how fresh and floral it was and the amount of citrus in it. We analyzed and captured the unique spirit of the original fragrance and thus re-created a lost treasure."
The fresh fragrance opens with the smell of sparkling grapefruit and zesty citrus. The scent of rosewood is complimented by warm amber tones. Finally the soft notes of rose and orange flower impart timeless elegance.
The limited edition Mary Celestia is packaged in a genuine Bermuda Cedar box, with the bottle nested in a black velvet bag. The box is closed with a hand tied blue ribbon and a red wax seal.
Catherine Zeta-Jones poses with a collection of men in Bermuda Shorts at the Mary Celestia fragrance launch event in Tribeca. Pictured [left to right] Joseph Romanelli, Chiwun Smith, Charles Webbe, Premier Michael Dunkley, Sen. Jeff Baron, Glenn Jones and Matthew Tomlin.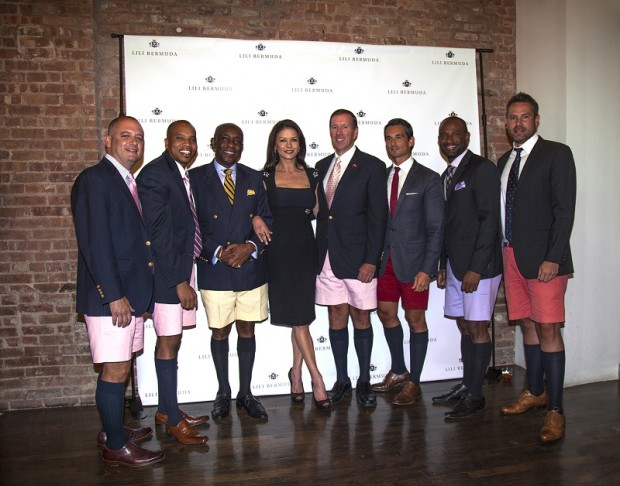 The fragrance bottle is dressed with a unique medal depicting the Mary Celestia before she sank. The artwork of the medal is used with the direct permission of the Bermuda Monetary Authority, which created the image to imprint on its rare three-dollar gold coin issued in 2006.
Every aspect of the limited edition fragrance is inspired by Bermuda – its scent, its packaging and, most of all, its story.
Mrs. Ramsay-Brackstone said: "This perfume was embargoed during the Civil War but there was such passion to own it, there was an attempt to smuggle it past Lincoln's Navy and into the American South. This story is about international intrigue and romance, timeless luxury and heritage."
The Bermuda Perfumery has been creating fragrances in Bermuda since 1928, and is known for launching Lili Bermuda, the exclusive fragrance line of Bermuda, which exudes the essence of the Island through the Art of Perfumery. The perfumes are uniquely crafted  in historic Stewart Hall in St. George.
- Photos courtesy of Chiwun Smith for the Bermuda Perfumery
Read More About
Category: All, Entertainment, History, News, Style & Beauty