Clarien Bank today [Oct 29] announced its community reforestation project following the recent impact of Hurricane Gonzalo and Tropical Storm Fay.
A spokesperson said, "Clarien will be offering 100 Bermuda Cedar, Palmetto and Olive Wood saplings to be planted, all of which are hardy native & endemic species and representative of the island's irrepressible spirit. Clarien would like to take this opportunity to invite all of its customers and residents to take part in the project.
A tree being transported after Gonzalo: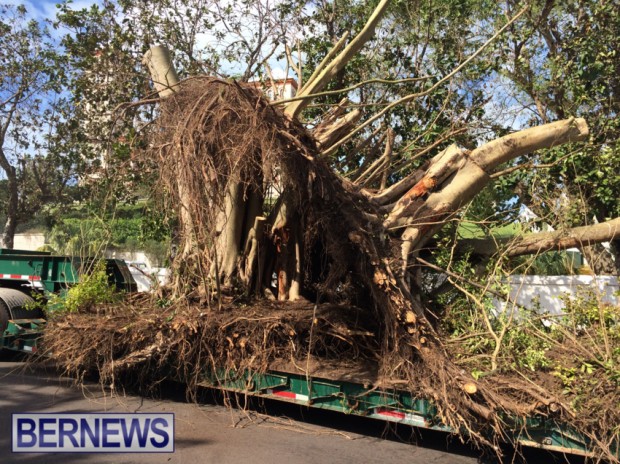 "The saplings will be offered on a first come first served basis from its Main Banking Hall on Thursday 30th October, from 11am to 2pm. Full advice will be provided to customers and residents wishing to take part in this project on how to safely plant and care for the trees and plants."
Michael DeCouto, CMO Clarien Bank, commented: "Bermuda has suffered not one but two recent storms, Fay and Gonzalo. We are committed to our local community and the precious environment in which we live. Our thanks go out to all public and private sector organizations who have worked tirelessly to help restore Bermuda following the storms.
"The Reforestation Project is a way for all of us collectively as a community to breathe new life, new energy and new determination into our island home. I encourage everyone to come and help us make Bermuda green again, and I look forward to seeing the fruits of this initiative in the years ahead."
For all our coverage of Hurricane Gonzalo click here, and for additional coverage on the impact of Gonzalo on our environment click here.
Read More About
Category: All, Business, Environment, News