The lack of major problems caused by plant pests and diseases on the island is something most of us probably take for granted, but there is work done behind the scenes to protect Bermuda's environment by people like Terry-Lynn Thompson, the Senior Plant Protection Officer in the Department of Environmental and Natural Resources.
Ms. Thompson entered Government through the Public Service Bursary Awards Scheme, a programme that has supported many young Bermudians' educational pursuits with a view of preparing them to fill essential technical and professional posts within the public service.
Minister for the Cabinet Office with responsibility for Government Reform Lovitta Foggo has emphasized the importance of showcasing the Bermuda Government as an employer of choice for Bermudians, saying that one of the goals "is to change the perception of careers in the Public Service" as they "want to attract, develop, motivate, and retain a quality talent pool that is committed to the highest standards of excellence."
"We intend to highlight and feature our existing talent, starting with former bursary students who have worked their way through the service," the Minister said. "We are commencing our awareness efforts to showcase highly skilled and talented public officers who work in an array of occupations in the public service."
Occupations in public service encompass a wide range of varied fields, and some of these posts are deemed hard to fill, meaning that there is a known limited talent pool with expertise in the specific area available on-Island and in some cases there could exist a global shortage of trained resources.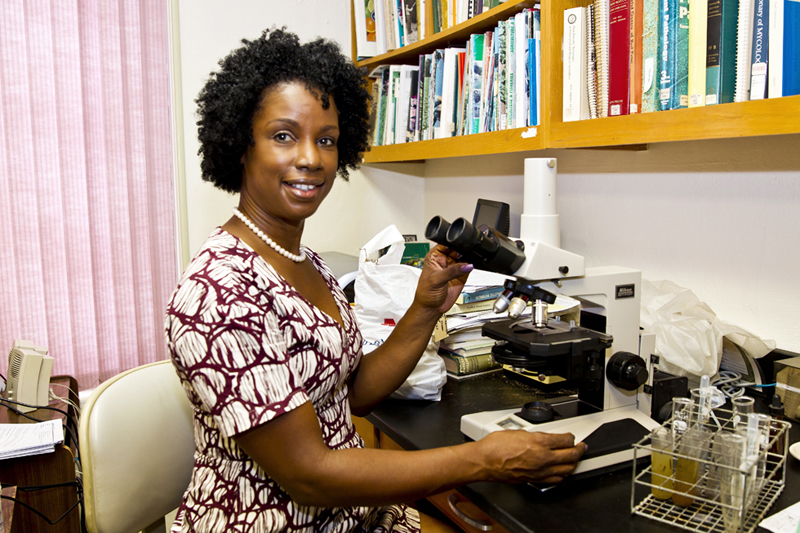 As a former Bursary student, Ms. Thompson was pleased to share her journey, saying: "I am pleased to note that I was a recipient of the Bermuda Government Bursary Award.
"Prior to receiving a bursary, I was a recipient of Further Education Awards. So I've had a lot of support from the Bermuda Government. As the youngest of 13 children, it was needed, and I am very appreciative."
The role of Senior Plant Protection Officer falls within the DENR, which has a mission to protect Bermuda's environment and manage the sustainable use of its natural resources.
Ms. Thompson says, "My job as the Senior Plant Protection Officer is to safeguard Bermuda's flora and to strategically manage the Plant Protection Laboratory."
"My journey to becoming the Senior Plant Protection Officer was an interesting one. I favored the sciences in high school and upon completion of my undergraduate studies at George Washington University in Washington DC, I graduated with a degree in Biology.
"I returned to Bermuda and worked in the Plant Protection Laboratory at the Department of Agriculture and Fisheries for two and a half years. I had an amazing mentor, my boss, Dr. Roberta Dow.
"She was the Plant Pathologist at the time. Dr. Dow, encouraged me, she said, 'Terry you can do my job.' And I thought, 'Yes, I believe I can.'
"As a result of her support I received a Bursary Award to pursue my Master's Degree in Plant Protection and Pest Management and when I completed my studies I returned to the public service and was appointed to the role of Plant Protection Officer. I was later promoted to the Senior Plant Protection Officer post in the department."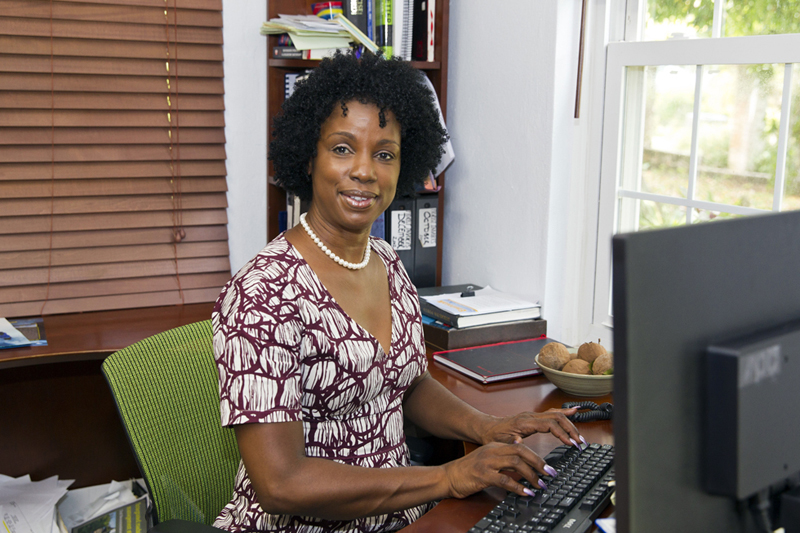 Ms. Thompson notes that a typical day in the life of a Senior Plant Protection Officer at the Department of Environment and Natural Resources [DENR] involves performing risk analyses relative to incoming plant material to prevent the introduction of plant pests and diseases, vetting documentation on incoming pesticides and processing imported plant shipments.
"As a Senior Plant Protection Officer, my added responsibilities include developing and managing environmental strategies, conducting research, project management, implementing practical and data driven solutions, developing policies and procedures, and managing capital, natural and Human Resources," Ms. Thompson said.
"Currently I'm working as the Acting Director at the DENR, and I have previously deputized in this role as well as in the role of Director at the Department of Parks.
"These developmental opportunities are really important as they have provided me the experience in engaging, leading and managing employees in highly visible, innovative, busy and progressive environments."
Ms. Thompson believes that the public service offers a wide variety of technical and professional career opportunities.
Asked what advice she would impart to young people who are searching for a career, she said, "Pursue studies that you are genuinely interested in, which you enjoy, pursue interests that resonate to your core.
"You're more likely to be passionate and happy in a career aligned with your true interests. You may have a change of mind with respect to your career aspirations, and that's fine, because as individuals we are continuously evolving and learning more about ourselves in the process, about our preferences and our dislikes.
"But at the end of the day, remain disciplined and focused because you are important and your life is purposeful."
Read More About
Category: All, Business, Environment, News