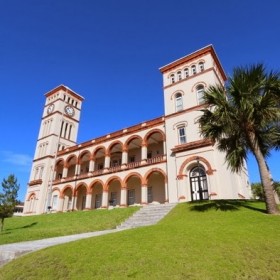 The Government confirmed they met with representatives from the BTUC and agreed that the Public Bodies Reform Bill will "not be tabled during the first session of the House of Assembly and will be deferred thereafter should collective efforts result in a 5% reduction in the operating budget for 2014/15."
The Government's statement follows after the Bermuda Trade Union Congress [BTUC] said that the Premier has "agreed that the Government will not proceed with the Public Bodies Reform Act at this time."
The BTUC [Bermuda Trade Union Congress] consists of multiple unions including the Bermuda Federation of Musicians & Variety Artists, Bermuda Fire Services Association, Bermuda Industrial Union, Bermuda Public Services Union, Bermuda Union of Teachers, Electrical Supply Trade Union and the Bermuda Prison Officers Association.
The BTUC said they "made its position quite clear to the Government that the Congress could not support the Public Reform Act which could lead to Privatization, Mutualization or Outsourcing of Government workers' jobs without first having a real conversation about Public Service Reform. The BTUC stressed the need for real Civil Service Reform, and the consideration a 3 to 5 year Deficit Budget Reduction Plan.
"After a very robust discussion by both parties, it was agreed that a committee comprised of both parties; Government and the BTUC be set up to seriously consider the points raised by the Congress. The BTUC requested that the Government should put the Public Bodies Reform Act on hold.
"The Premier has agreed that the Government will not proceed with the Public Bodies Reform Act at this time," the BTUC said.
In response, a Cabinet Office spokesperson said, "Last Thursday, [Oct. 17] the Government did meet with representatives from the BTUC. As an outcome of the meeting, the Government agreed that it will continue to work collaboratively with the BTUC to identify opportunities to achieve a 5% savings in its operating budget.
"The Government subsequently determined that a tripartite working group would be appointed.
"The working group will consist of those persons who have been identified to negotiate on the Government's behalf, senior technical officers, and those representatives that the BTUC identifies."
The spokesperson continued, "The Government has agreed that the Public Bodies Reform Bill will not be tabled during the first session of the House of Assembly and will be deferred thereafter should collective efforts result in a 5% reduction in the operating budget for 2014/15.
"However it should be noted that the required policy development work and drafting of the Bill will continue during this period.
"As an added note, in keeping with the SAGE recommendation to appoint individuals independent of the Unions to negotiate on its behalf, the Government has appointed Mr. Gary Phillips, Mr. Martin Law and Mr. John Harvey as its negotiators.
"It is expected that the effort to identify the 5% budget reduction will precede formal negotiations, though it is accepted that negotiations may commence during the period if agreed by the parties."
For all our coverage of the Public Bodies Reform Act click here.
Read More About