Two of the three talented and aspiring football players selected to travel to Jamaica and participate in the Digicel Chelsea Football Academy have arrived in Kingston, where the best in footballing talent in the region will undergo a week of intense training under the guidance of the coaches from the Chelsea FC Foundation.
Kamali Davis and Llineiko Millett are amongst the full complement of 42 young footballers chosen from 13 Digicel Caribbean countries to attend the weeklong Academy, which promises to deliver a fantastic football experience. The young men have expressed that they are extremely excited and committed to giving their all while acting as ambassadors for Bermuda.
Kamali Davis and Llineiko Millett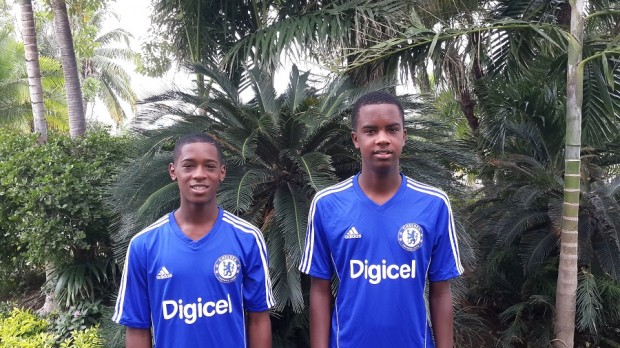 "We are pleased to bring such a rewarding opportunity to Kamali and Llineiko," comments Alistair Beak, CEO of Digicel Bermuda. "We understand that the boys will learn a great deal over the next week and anticipate they will bring any new found skills back to our island's football community."
The Academy trains these aspiring young players not only by developing their skills on the pitch, but also teaching them valuable skills and attributes – such as team work and respect – which will help to improve them as players and as individuals.
The Kick Start Programme has helped thousands of players from the Caribbean and Central America over the last eight years and has seen a number of them going on to represent their schools, communities and their countries on an international stage.
Most notably, last year's Academy MVP and Jamaican schoolboy football star, Cadine Graham, received a scholarship to attend the University of the West Indies, Cave Hill campus in Barbados, as a result of being scouted while at the Digicel Academy.
The Digicel Kick Start Academy began today [Sunday October 26th] and ends on Saturday November 1st with a match between the Academy players and the Jamaica National Under 16 team.
Kamali and Llineiko were amongst the 30 local footballers selected to participate in the Digicel Kick Start Clinic with Chelsea FC coaches at the Bermuda Athletic Association in May.
For more information related to the Digicel Kick Start Programme visit www.digicelfootball.com
Read More About