The Bermuda Public Services Union [BPSU] membership will be hosting a meeting for Government civil service workers on Tuesday, October 7, from 3:00 p.m. at St. Paul AME Church on Centennial Hall, Court in Hamilton. The agenda of the meeting will be on the Public Bodies Reform Act 2014, and members must produce BPSU membership ID.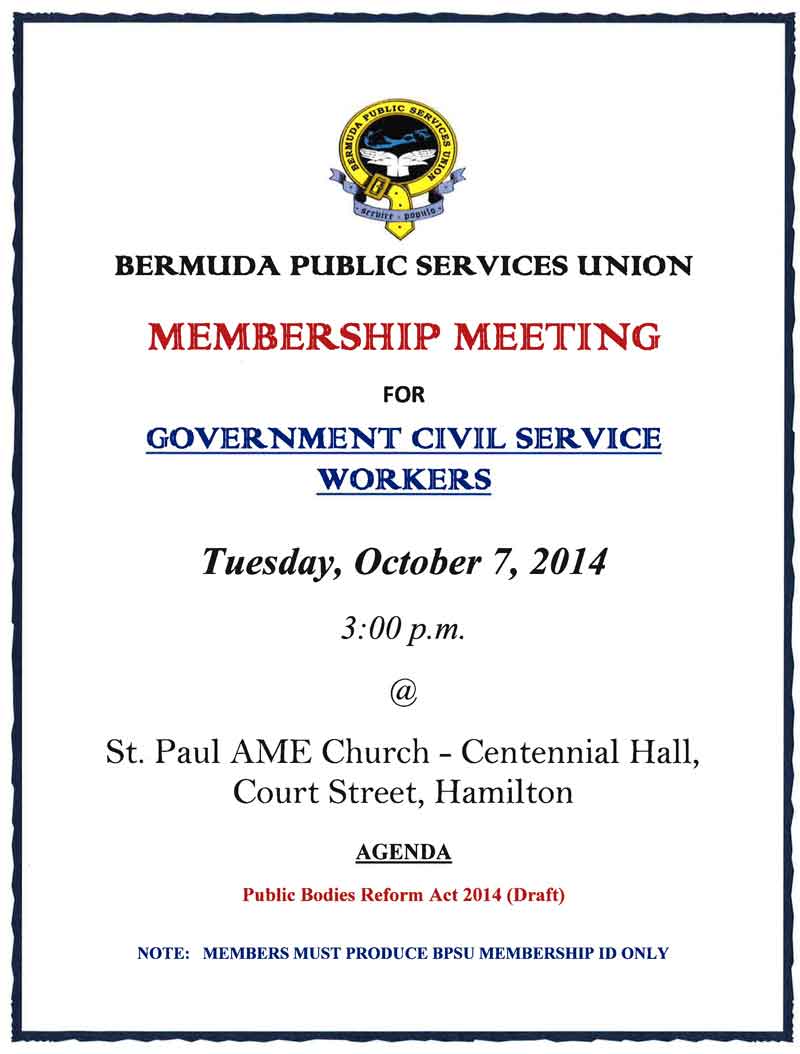 Speaking earlier this year, Premier Michael Dunkley said, "The Government accepts that the cost of running Government and substantial debt threatens to destabilize the financial foundation of the organization; further, public expectations coupled with budget cuts require realignment of the organization and the delivery of services.
"The Public Service Reform Initiative represents a significant undertaking over a sustained period that will affect internal operations as well as the delivery of services. The working groups are our implementation teams and they will be held accountable for the delivery of the change initiatives assigned."
Also speaking earlier this year, the BPSU said, "The Draft Bill 2014 is proposing to grant the 'Efficiency and Reform Authority' sweeping powers to reduce the number of public bodies and bring greater accountability, transparency and efficiency to the public sector.
"The Union implores all public officers to consider this legislation as reshaping their terms and conditions of employment.
"Many members of all ranks within the Civil Service have expressed their grave concern over the intention and the appearance to relegate the Civil service to an 'administrative body' with limited powers," added the BPSU.
"Please be assured that this Union will do all that we can to encourage amendments, modifications, or the defeat of this 2014 Bill. At present, the Government has legislative powers to effect the combining of Departments or explore other options for greater efficiency, accountability and transparency."
Read More About
Category: All