[Updated] Anglican Bishop of Bermuda, Nicholas Dill joined with other churches and community groups today [Oct 29] at City Hall in Hamilton to hold a special service to thank Bermuda's "hurricane heroes."
Bishop Nicholas Dill said, "We want to thank God for bringing us through two storms and for Bermuda's resilience and acknowledge and thank all those groups that help and to pray for those for whom life continues to be a struggle."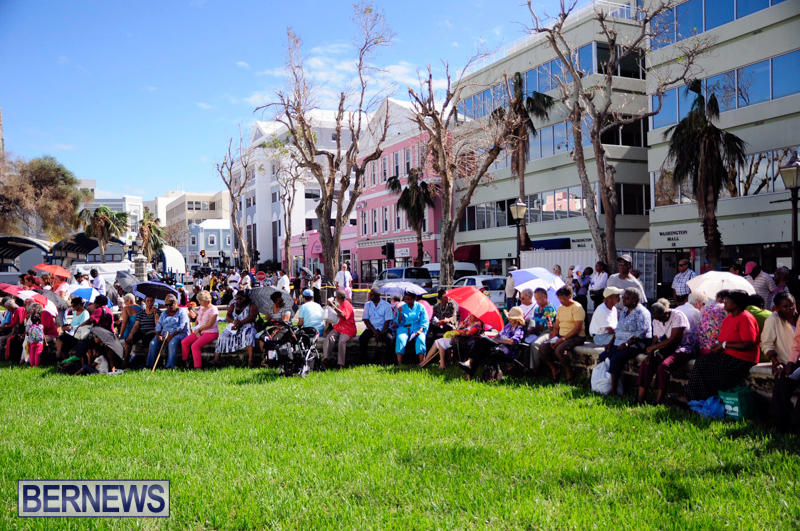 Imagine coordinator Glenn Fubler said, "With two storms, we've been through probably the most challenging week that Bermuda's seen in decades.
"This event is to show appreciation for those organisations like the Regiment, especially so because they have to go the extra mile, and BELCO, BTC, the police and others who were out there – all those who were more vulnerable than most of us."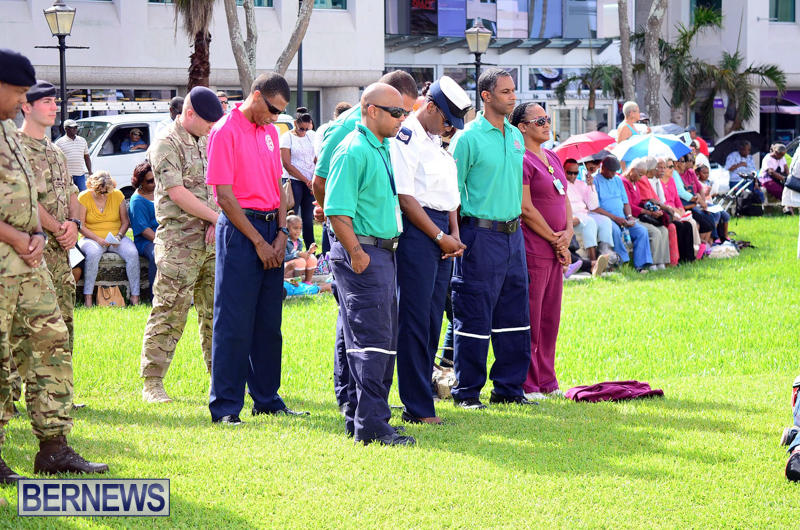 The service was organized in conjunction with community group Imagine Bermuda, the Family Centre and other churches, including the Catholic church, the AME church, Seventh Day Adventists, the First Church of God and the New Testament Church of God among others.
Update 8.41pm: Anglican Bishop of Bermuda led tributes to the soldiers, firefighters, Government workers and police who helped the Island recover from Tropical Storm Fay and Hurricane Gonzalo.
Acting Premier and Minister of Finance Bob Richards said afterwards: "I was very pleased to be here and I'm happy to participate.
"We always have something to be thankful for in Bermuda, but on this particular occasion, we have extra to be thankful for."
Shadow Community and Cultural Affairs Minister Michael Weeks told the crowds at City Hall: "The Regiment soldiers I see here did a great job, as did the Fire Service and Belco has been a life-saver for me.
"I take my hat off to all they have done to help our Island get back together."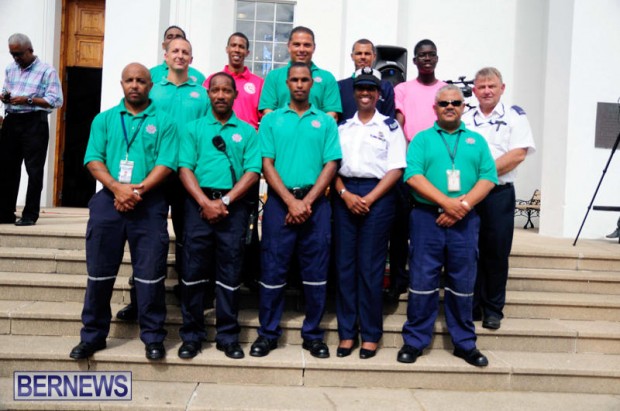 Regiment CO Lt Col Michael Foster-Brown added: "It's great to see people coming out and showing their support for the emergency services, as well as giving thanks for the fact that we came through the storms with less damage than we had every right to fear.
And he told Bermuda residents: "Everybody loves a soldier at the moment, but in the months to come when the memory of Fay and Gonzalo has faded, if you value the Regiment then please show that support, whether it be by speaking up for it, a friendly toot of your horn when driving past someone in uniform, giving soldiers credit for their transferable skills when they apply for a job, or indeed considering service yourself."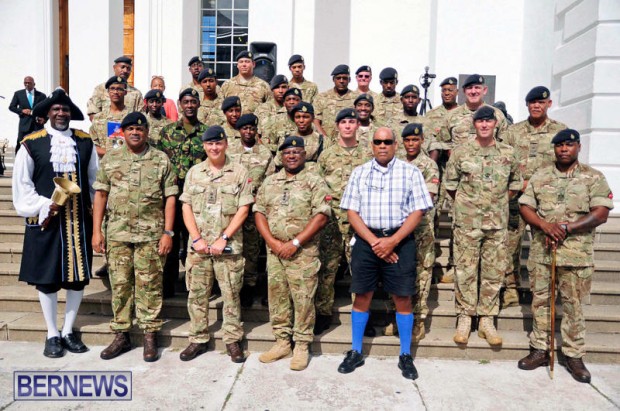 Col Foster-Brown added that a total of 16 soldiers were still deployed, helping Belco crews restore power to homes and businesses across the Island.
And he said: "The Regiment did its duty during the hurricanes and the aftermath, as we will again when the next emergency sadly and inevitably comes, but we really value the support for what truly is 'Your Regiment'."
Photos by Kenneth Byron, click to enlarge:
Read More About