The Bermuda Weather Service issued a full release last night following the aftermath of Tropical Storm Fay, saying "Bermuda essentially sustained a direct hit from Fay," and advising people to take note of forecasts and to be prepared for storms.
The statement from the BWS said, "Bermuda Weather Service [BWS] first contacted the EMO on Wednesday 9th October immediately after speaking with the National Hurricane Center [NHC] in Miami regarding concern for the development of a trough of low pressure a few hundred miles to the east of the Leeward Islands. This low had not yet been identified on their website as a probability of formation in their 5 day outlook.
"Due to BWS prompting NHC the probability forecast was issued on Thursday, giving a 20% probability of formation within 5 days. This information was conveyed to the public in the BWS Forecast Discussion, as well as by being mentioned on our regular VSB radio broadcasts.
"In addition, our forecast public synopsis was adjusted to highlight the fact that we were monitoring this possible development and this was disseminated on all our regular dissemination channels.
Slideshow of over 50 photos from the Warwick/Paget area
"BWS then began issuing advisories on newly developed Subtropical Depression Seven at noon on Friday. This depression was located around 500 nautical miles south of the Bermuda and was expected to pass the Island around 100 nautical miles to the southeast on Sunday morning as an intensifying Tropical Storm. At this stage it was deemed a 'Potential Threat' and a 'Tropical Storm Watch' was issued.
"Subtropical Depression Seven developed into Subtropical Storm Fay at 6pm on Friday around 450 nautical miles to our south. It then gained enough tropical characteristics to be deemed a pure tropical storm (Fay) at 9am on Saturday morning.
"With the storm intensifying into a strong tropical storm, and the closest point of approach getting noticeably closer to the Island for early Sunday morning, as per regular update briefings with the NHC, BWS issued a Tropical Storm Warning at 5.30am on Saturday morning.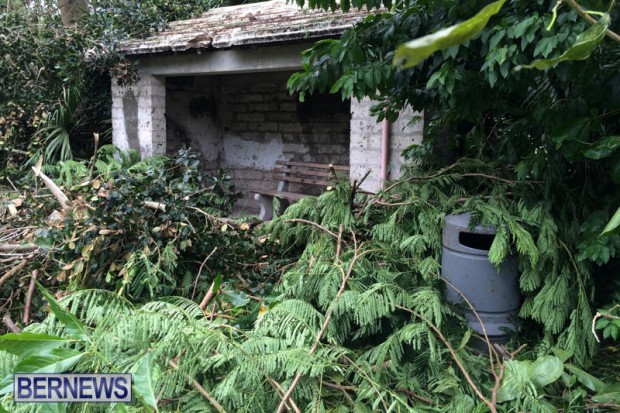 "As a consequence of this warning a press release was issued to by the EMO that day to advise the public to take the necessary precautions in advance of Tropical Storm Fay.
A further update was made at 4.30pm on Saturday, when BWS in consultation with the NHC not only issued a continuation of the Tropical Storm Warning, but also a Hurricane Watch, as there was a risk that temporary hurricane force winds could affect parts of the Island [especially exposed and elevated areas] in association with heavy thunderstorms during the early morning of Sunday as Fay made its closest approach and began to accelerate away to the east-northeast. The EMO was once again advised accordingly.
"The Tropical Storm Warning and Hurricane Watch remained posted through Saturday night, in advance of the expected worst conditions early Sunday morning.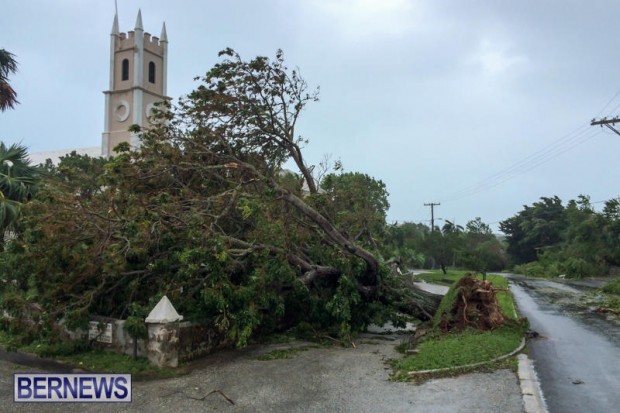 "Winds generally peaked at 7-8am across the Island this morning, a couple of hours later than initially forecast the evening before. In addition, Bermuda essentially sustained a direct hit from Fay, with its expected movement toward the northeast [as per NHC indications] not occurring until after it had passed the Bermuda area.
"Sustained storm force winds of 53 knots were recorded at the airport at 7.34am at which time there was also a hurricane gust of 71 knots. More exposed and elevated parts of the Island recorded even stronger hurricane force gusts. The extreme wind conditions began to abate around 8.30am.
"Bermuda Weather Service would like to reiterate to the public that tropical systems are by their very nature sometimes quickly changing in both intensity and track, and that is why BWS updates the Tropical Update Bulletins every 3 hours during threat conditions.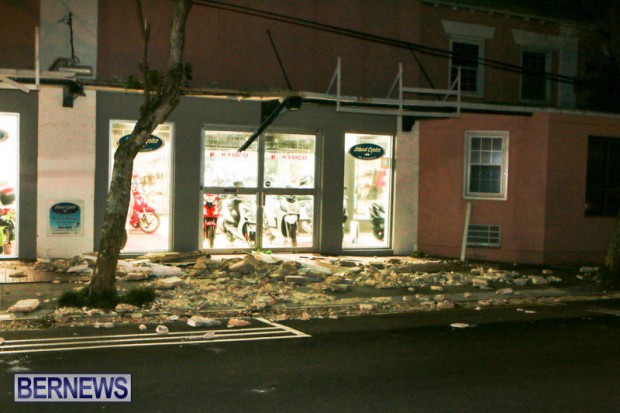 The BWS added that "all tropical watches and warnings should be taken seriously for this reason," and encourage the public to keep up to date with the latest official forecast products.
"With the passage of Tropical Storm Fay, complacency is not an option, and on that note please be aware that Tropical Storm Gonzalo has now developed east of the Leeward Islands," said the BWS.
"The current tropical update bulletin indicates a path towards Bermuda as an intensifying hurricane later this coming week, and we strongly advise everyone to keep an eye on our regular update bulletins.
"As a reminder, the North Atlantic hurricane season runs from June 1 through November 30 and it only takes one tropical system to make it a busy season for Bermuda."
For all our coverage of Tropical Storm Fay click here, and for our live blog click here.
Read More About