Bermuda's soldiers were today out on the water and on land helping clear up after Hurricane Gonzalo.
Boat Troop soldiers checked homes on islands in and around Hamilton Harbour for damage while land-based soldiers continued to clear roads and help secure damaged roofs. The news came as the Regiment prepared to team up with sailors from HMS Argyll to help the island recover from a battering from Hurricane Gonzalo.
The frigate's Lynx helicopter is already on the Island and doing flyovers to spot blocked roadways and serious damage from the air, with the Regiment's Major Dwight Robinson, normally the Director of Music, acting as observer.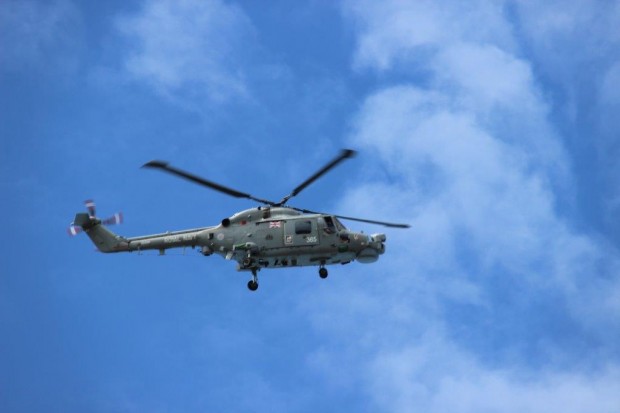 Regiment CO Lt Col Michael Foster-Brown said, "Immediate Response Teams sprang into action as soon as it was safe to do so and were out in the dark doing reconnaissance and clearing trees as the winds were subsiding.
"Thankfully, the hurricane was not as bad as people feared, but there was a lot of debris and some large trees down, although the main roads were open relatively quickly."
Col Foster-Brown said members of the public could collect tarpaulins to cover damaged roofs from Warwick Camp.
"Soldiers are continuing with a more deliberate clearance of the roads and helping vulnerable groups whose housing has been damaged."
Col Foster-Brown said Royal Navy specialists, particularly electricians, will be deployed to help with the recovery effort.
Embodied soldiers with families, who have been working flat out since Thursday afternoon, will be allowed home and replaced by volunteers from Sunday.
Col Foster-Brown said, "Tropical Storm Fay may have assisted us because some of the vulnerable vegetation and poles went, although there have been cases of severe individual hardships.
"We can't help everyone – but we will do what we can to support people, especially vulnerable groups and those who don't have family and friends to help.
"I'm proud of the way the Regiment has responded, particularly when many of them left behind their own loved ones behind. They left their families to help other people and the entire Island owes them a debt of gratitude."
Lt Commander Chris Ansell, HMS Argyll's Executive Officer, who flew in this afternoon on the ship's Lynx, said, "We realised very quickly we were in a position to help. The Government of Bermuda asked us to to stand by in case we were needed. We're coming up with a plan where we can work alongside the Bermuda Regiment to get life back to normal as fast as possible.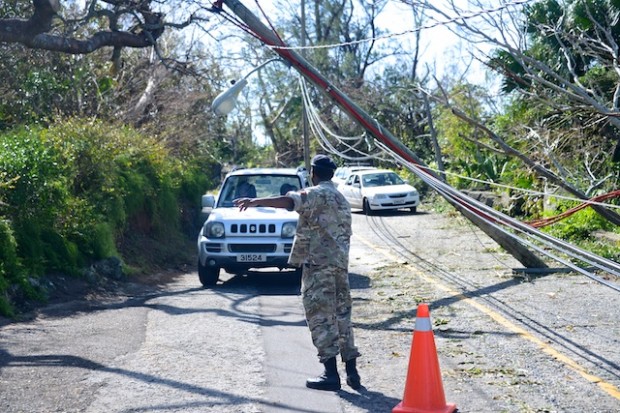 "The Regiment has been outside since the early hours and, looking at the Island from the air, we saw clearly that the Island is recovering very quickly."
The ship, a Type 23 frigate, is deployed to the Caribbean and Bermuda until the end of the year as the Royal Navy's Atlantic Patrol Task North.
Cmdr Ansell said, "Support to the Overseas Territories is our primary role and we're happy to help in any way we can."
For all our coverage of Hurricane Gonzalo click here, and for our live blog where we are bringing you continuous live coverage of Hurricane Gonzalo click here.
Read More About
Category: All