[Updated: Airport to open at 5pm on Sunday]
While the airport was closed today [Oct 18] there has been some activity in the sky, with a US Coast Guard airplane flying over the island, while a UK Royal Navy helicopter flew over to assess the damage caused by Hurricane Gonzalo.
In their update this evening, the Emergency Measures Organisation [EMO] said airport "continues to be assessed. There was additional roof damage experienced at the airport, however it is anticipated that the airport will be open for business late tomorrow [Sunday] afternoon."
The Coast Guard plane in Bermuda today:
The UK Royal Navy vessel HMS Argyll traveled to Bermuda to stand-by in case we needed assistance, and provided the helicopter that was flying overhead today.
The U.S. Coast Guard  – who earlier this month had to rescue a man trying to travel to Bermuda in a plastic bubble — also had a plane flying over us today, presumably also surveying the damage left by Hurricane Gonzale.
Earlier today, Premier Michael Dunkley said, "A number of our overseas friends especially the United States and the UK have quickly offered assistance to us and we are very grateful. The expertise that they offer will be put to best use as soon as we have completed the assessment of the priority of work required."
Coast Guard plane over the east end today: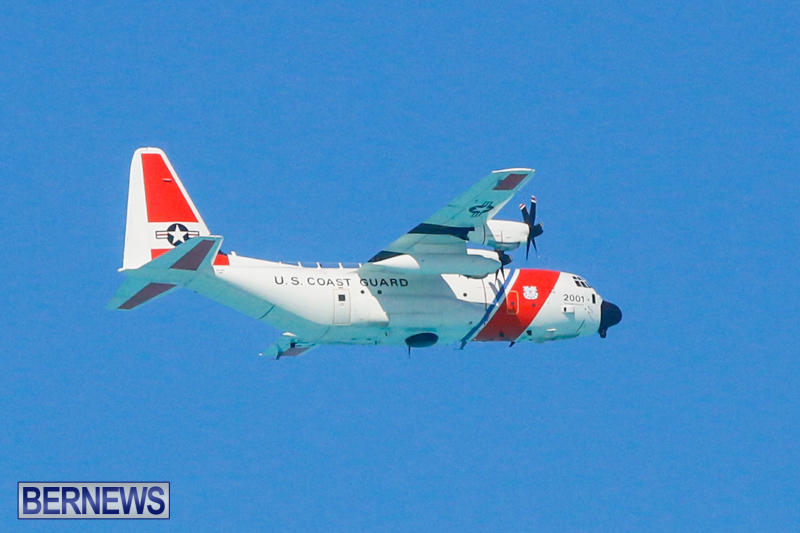 With the aircraft flying overhead, Bermuda Regiment soldiers, worked alongside BELCO staff and many others in taking stock of the work to be done, clearing streets, and otherwise repairing the damage from Hurricane Gonzalo.
As of 9.00pm on Saturday, October 18, BELCO reported that approximately 13,022 customers were without power due to Gonzalo. There were 30,700 out right after the storm, meaning that 17,678 have been restored so far.
Helicopter off the Royal Navy ship flying over us today: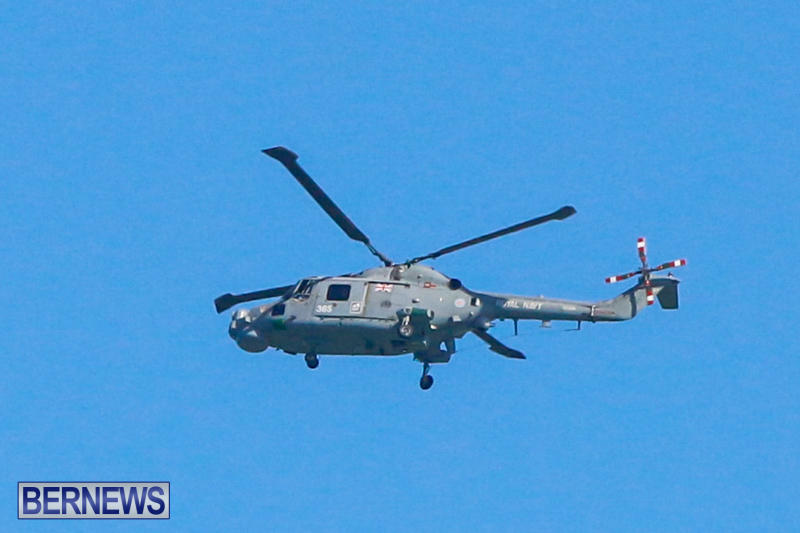 For all our coverage of Hurricane Gonzalo click here, and for our live blog where we are bringing you continuous live coverage of Hurricane Gonzalo click here.
Read More About