The RUBiS Warwick Gas Station Charity 5K Family Fun Walk and Run to benefit Autism Awareness on Sunday, October 26, 2014 starting at 9.00am from Warwick Gas Station.
A spokesperson said, "The entry fee is $10. Funds raised will benefit Tomorrow's Voices – Bermuda Autism Early Intervention Centre, as well as the Basden Family [Radio DJ B. Roc] in order to cover medical and therapy expenses for their daughter Eleah Basden, who's is on the Autism Spectrum."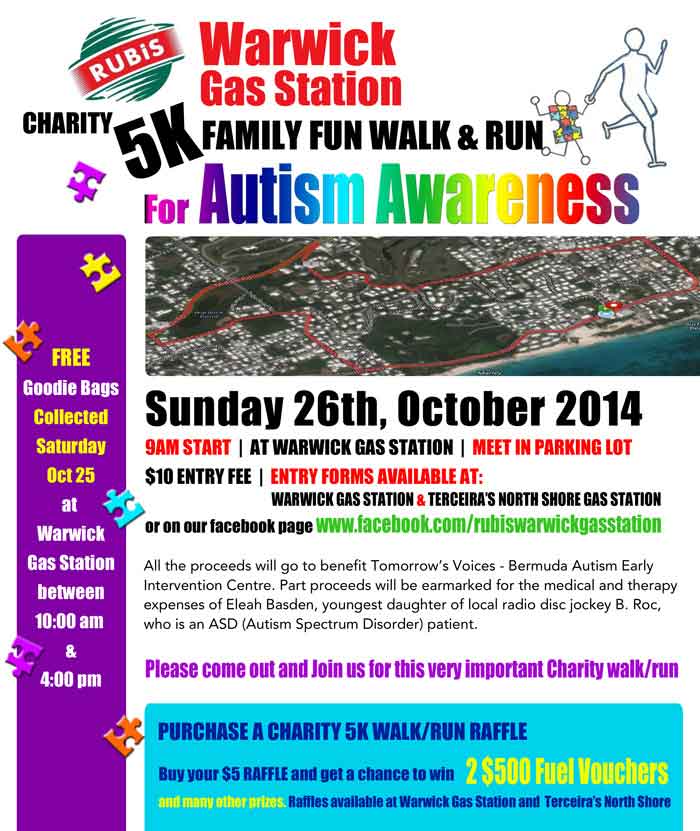 "Participants can stop by RUBiS Warwick Gas Station on Saturday, October 25 and collect your free goodie bag between 10.00am and 4.00pm.
"You can also support the event by purchasing a $5 raffle ticket. Tickets are available from Warwick Gas Station, Terceira's Gas Station, and at Tomorrow's Voices.
"Prizes include two $500 fuel vouchers, a $500 gift certificate from Cell One, and a two night stay at Grotto Bay Beach Resort.
"Come out and support the walk as well as purchase a raffle. Your support will directly touch a child with Autism."
Read More About
Category: All