[Written by Laurie Fullerton] After three days of racing on the Great Sound, the fleet of 14 International sailors and 26 Bermudians met their final teacher – a tricky, shifty Hamilton harbour course the final challenge to the fleet. The sailors took it on and despite the difficult, light conditions, Denmark's Christian Spodsberg finished today's race in first place with 33 points and is the overall winner of the Renaissance Re Junior Gold Cup.
"The harbour was much more shifty and difficult than I expected and I had to fight my way up to the top mark where I was in fourth" Spodsberg said who won the regatta. "On the next rounding, through the gate, I was in first so that was very good. It was a great time here overall."
Bermudians placed well in the overall regatta with Adam Larson,13, holding on to his second place with 53 points. Larson sailed very well this week and also earned the award for top Bermudian sailor.
"Going into this regatta, my goal was to be top Bermudian sailor," Larson said. "In the past, the top Bermudian was not in the top three. To finish in second place in Bermuda is a really, really big thing for me. I feel really good about how I sailed this week."
Denmark's Christian Spodsberg won the Renaissance Re Junior Gold Cup and Sweden's Johnie Berntsson won the 2014 Argo Group Gold Cup: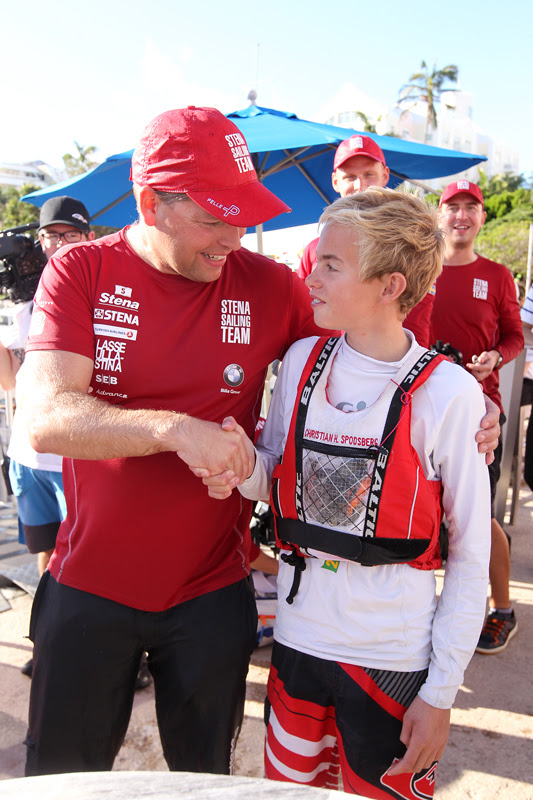 Third place went to Brazil's Joao Emilio Vasconcello with 54 points. He is a tall boy who sailed well in both heavy breeze and super light conditions. "I appreciate the opportunity I had to sail in this regatta," Vasconcellos said. "This island is beautiful. I particularly want to say a special thank you to Dede Cooper and Susan Smith."
The top female finisher award went to Julia Szmit of Poland, who finished in ninth place overall. "On the last race I had a bad start but as it was lighter breezes and I am from the lakes it started to feel very familiar to me. I think sailing here on the harbour is a bit more like the lakes I sail in Poland."
One of the key factors of this regatta is that although the competitors may arrive as shy young teenagers, they quickly form friendships that endure and grow. In the case of this year's international and Bermudian group, the Optimist worlds were ongoing in Argentina during this event. Although these competitors narrowly missed a shot at the worlds by a point or two,
Bermuda was a fantastic alternative and experience no young sailor would ever forget.
For principal race officer Charles Tatem that is part of the importance of the event. It is also great, according to Tatem, that the sailors here get this kind of exposure.
"Because the kids are getting much more international exposure, it really gives them something to aim for. The top sailors coming here really raise the bar, and the Bermuda sailors also raise the bar for each other."
Regatta Chairman Somers Cooper reiterated that, "none of this would be possible without the support of RenaissanceRe who have made this experience a reality for 12 years running. They have allowed us to bring a generation of world-class sailors from around the world to our shores to show our local kids where the bar lies ."
Read More About