[Written by Laurie Fullerton ]
First day jitters marked the start of the 12th annual Renaissance Re Junior Gold Cup. Racing featured strong performances from a trio of nordics including Christian Spodsberg of Denmark now leading the race with three points, Mainio Ormio of Finland with 9 points and Kasper Nordenram of Sweden who is in the top 10.
In second place, Adam Larson of Bermuda has 7 points and had a great day on the water today. Larson, whose family is still without electricity after Hurricane Gonzalo, said he has been getting to bed a lot earlier these days and feels that the conditions also favored his performance today.
For Denmark's Christian Spodsberg who had a second and first place consecutively, he was careful to start in the middle and hang back a little on a crowded line. "There was nice wind and I was very pleased with the way I sailed today. It was great."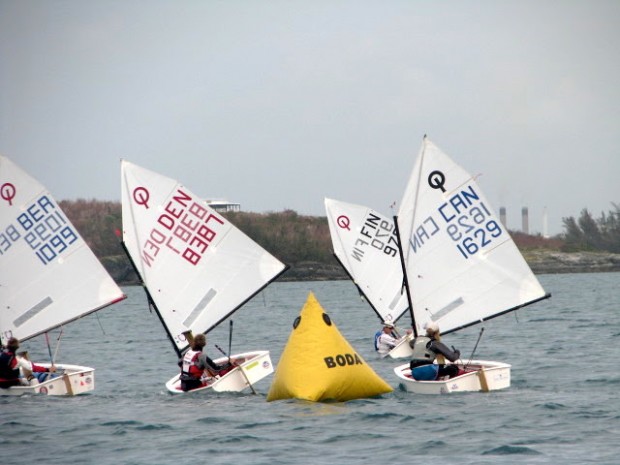 "I did play the middle of the course but I also do well in the light air so I was lucky we had two light air races today," Larson said. "I also plan on going to bed early again tonight. That is one of the benefits of not having any electricity."
With heavy rain delaying the event so that the morning start was postponed until after 1 p.m., the enthusiasm of the competitors did not wane as the rain abated. Two races were completed today, with first day jitters creating a scenario where a number of sailors were "black-flagged" after getting to the starting line early.
For Canadian national champion Theodora Horangic her two races were a bit of a disappointment but she said that "I felt like I was much more comfortable in the venue. Sometimes people get scared when there are black flags but I just did not take any big risks today."
For the 14 nationalities racing today, coach Tom Herbert Evans said that he was impressed by both their talent and the 36 local Bermudians in the regatta. "It was a tough day for Bermudian Campbell Patton who was sailing a great race but had a difficult break with a black flag. Others sailed very well including Christian Ebbin who had a great regatta and young Azhai Smith did a great job with his first regatta ever."
Evans added that it is hard to tell where the fleet will be over the next few days as there were a number of competitors who were over early or black-flagged today. "We do have the kind of weather forecasted that will make it a very interesting regatta for both lighter and heavier competitors."
The Renaissance Re Junior Gold Cup is now in its 12th year, with nine races to go before the final race on Sunday just prior to the finals of the Argo Group Gold Cup.
"Unfortunately the weather kept us onshore all morning but we were really happy to get two good races in," said regatta chairman Somers Cooper. "The first day of a major regatta like this one does sometimes give competitors the first day jitters but everyone has gotten the jitters out so it looks like it is going to be a great event."
Read More About