[Written by Laurie Fullerton] American Wade Waddell remains in first place after two days of racing. His steady finishes at the top of the fleet have given him a six-point lead over the competition. With two bullets Thursday [Oct.6], and two seconds, a third and a fifth place, he says he struggled with the wind shifts and keeping his boat flat. With 14 points after seven races he is sailing consistently even against some formidable female challengers.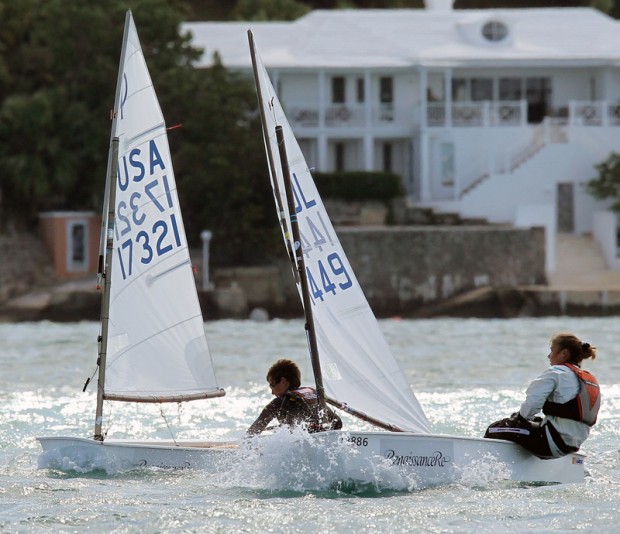 Wade Waddell [USA] and Martyna Mik [POL] pictured above in the RenRe Jr Gold Cup.
Astrid Still of Finland who is sailing very well is currently in second place with 21 points. Third place belongs to Oliver Osterberg of Sweden who had two bullets today and has a total of 27 points.
"Today was really shifty and when the puffs came I should have de-powered more. I watched the girls ahead of me depowering so well and I really could have hiked more," Waddell said. "But I am pleased to be in first place." Waddell says that it may have looked that way, but he was not being a gentlemen on the course today when he lost the top spot on nearly each race to one of the girls, including Still, Francesca Bergamo of Italy, and Martyna Mik of Poland who are in second, fourth and fifth place respectively. "I wasn't being polite," Waddell said, "but they just kept their boats flat and sailed them really well."
Still, who remains a very strong contender and is giving Waddell some tough races, said that today's big breezes and shifts were really her kind of day. "I actually really like these big winds and big shifts. It is what we practice a lot of in Finland so it is something I have experienced a lot before," Still said.
Day two of the RenRe Junior Gold Cup was a taxing day for all the competitors as winds were 20 knots and gusty. Antonio Bailey, the top Bermudian sailors in the regatta so far with a 12th place said that "experience and weight, understanding and reading the shifts really counted for a lot today."
Marvin Frisch of Germany is in eighth place behind his friend and rival Bart Labriex of Holland. "For Bart and me, who are about the same size, 25 knots of wind is too much for us because we are not heavier. I was getting a little unhappy because I would have a good start but the top girls, especially, are quite a lot bigger than we are right now and they can keep their boats so flat. As hard as I tried, I couldn't make headway but I am not going to give up." Matthew Lau, 12, of Singapore, is a long way from home and is accustomed to warmer waters he says, with a maximum of a 15-knot winds. He says, "What I really like about being here is the fresh air and clean water."
Bermuda's Opti fleet really hung tough today and put in nearly eight hours on the water all told and completed five races. All of the sailors were exhausted, and Somers Cooper said "we try to sail everything by IODA standards. Although today was a marathon day, it meant that the cream rises to the top. We were really able to give our own kids a taste of what it takes to really be a champion."
Ben Nicholls, father of Matilda, who at nine is the youngest competitor out racing and only weighs 78 pounds, added "this event is for the world's best sailors. It sets the bar very high for them. But, the younger ones are growing up right here on the water, learning what it takes to be a true champion. What I also see is that all of the kids have a great deal of respect for each other."
For sailing coach Paul Doughty, he adds that "five races is a long day and this is the Gold Cup and it should be challenging. But, with some of these kids having their first experience on the water, you still can't treat development with a broad brush, and some are more ready than others. But, they all have a lot to be proud of."
Racing resumed Friday morning on the Great Sound and the race committee aims to complete 15 races before Sunday, so they will have their work cut out for them.
Photo courtesy of Charles Anderson/RBYC
Read More About