Four of Bermuda's top gymnasts departed yesterday [Nov 2] for the Pan American Gymnastics Union Women's Developmental Training Camp for juniors [13-15 years of age] held in Houston, Texas at the USA Gymnastics National Team Training Center. The camp runs through November 6th.
Danielle Wall [15, BHS], Samantha Soares [14, Warwick], Ava Marshall [14, BHS] and Gianna Webbe [12, Warwick] will be representing Bermuda at the event, along with BGA Head Coach and Program Director, Duke Nelligan. They will join the top junior athletes from across the Caribbean, Central and South America, Canada, and the USA.
The intensive camp will consist of 2 training sessions per day, for 3 hours each, covering conditioning, flexibility, ballet, and the four Women's Artistic events: Vault, Uneven Bars, Balance Beam, and Floor. Training on each apparatus will be led by a member of the USA National Coaching Staff, all of whom have coached international elite athletes, including many World and Olympic champions.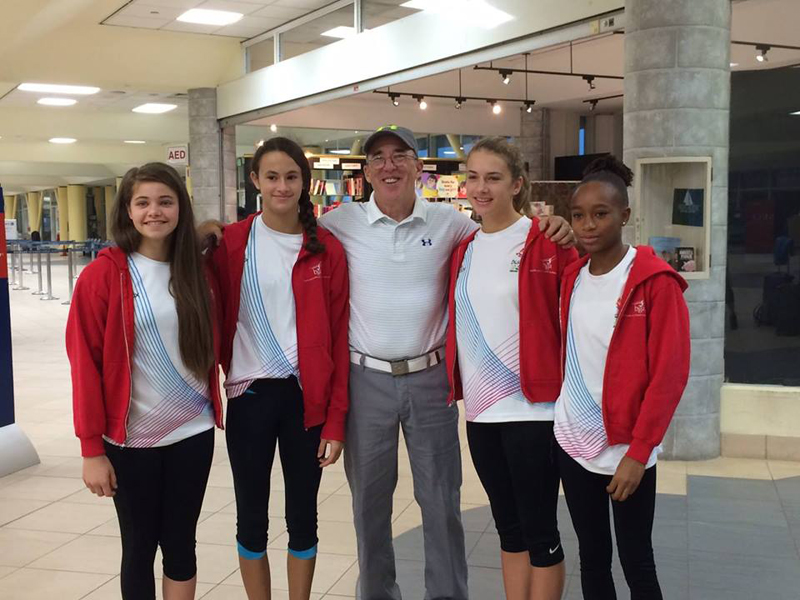 A spokesperson said, "The athletes selected are among the top junior gymnasts representing Bermuda at this time. They have made a serious commitment to their sport, training 5 days a week, 3.5 – 5 hours per session."
"We feel that they are prepared physically and mentally to take advantage of what will be a very challenging but also very rewarding experience. We hope this is a springboard for them to keep developing into high level athletes as they reach senior eligibility", says Coach Nelligan.
"The gymnasts and Coach Nelligan will return to the island on Thursday [Nov 6], where they will resume preparations for the 4th Annual International Gymnastics Challenge being held in St. Davids on Saturday, November 8th. The BGA is welcoming over 70 gymnasts from the U.S. to compete in this event."
Read More About