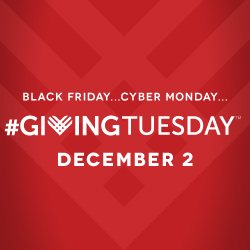 The Centre on Philanthropy is joining the global celebration of the "GivingTuesday" Movement and  encourages everyone to "spend with a purpose."
"We have a day for giving thanks. We have two for getting deals. Now, we have GivingTuesday, a global day dedicated to giving back," a spokesperson said.
"On Tuesday, December 2, 2014, charities, families, businesses, community centres and students around the world will come together for one common purpose: to celebrate generosity and to give.
"It's a simple idea. Just find a way for your family, your community, your company or your organization to come together to give something more. Then tell everyone you can about how you are giving. Join us and be a part of a global celebration of a new tradition of generosity.
"The Centre on Philanthropy has joined the third annual GivingTuesday celebration in an effort to inspire personal philanthropy and encourage donations and volunteering activities that support charities and non-‐profit organizations. The idea is to find ways to join in acts of giving and discover creative ways to give this season.
"GivingTuesday started three years ago in the U.S. Seeing an opportunity to channel the generous spirit of the holiday season to inspire action around charitable giving, a group of friends and partners, led by the 92nd Street Y [92Y], came together to find ways to promote and celebrate the great American tradition of giving.
"The retail industry has long benefited from seasonal shopping that symbolically kicks off with "Black Friday" – a day that has since inspired "Small Business Saturday" and "Cyber Monday." GivingTuesday serves as a celebratory, fully connected day to kick off the giving season, when many make their holiday and end-of-year charitable gifts.
"With the help of the United Nations Foundation and other founding partners, more than 10,000 organizations have joined the movement and are providing creative ways people can embrace #GivingTuesday and collaborate in their giving efforts to create more meaningful results.
"#GivingTuesday is a call to action to celebrate giving and encourage more, better and smarter giving during the Holiday Season. It's an organizing principle to encourage the creativity and energy of people all over the world to work together for good.
"On December 2, 2014 – the Tuesday after Thanksgiving – #GivingTuesday will harness the power of social media to create a moment around the holidays dedicated to giving, similar to how Black Friday and Cyber Monday have become days that are, today, synonymous with holiday shopping."
'There are many ways to give back to our community,' said Elaine Butterfield, Executive Director at The Centre on Philanthropy. 'In the true spirit of the giving season, The Centre on Philanthropy would like to remind the community to consider those most in need of your support.'
Here are a few ideas, provided by the Centre on Philanthropy, for ways to give:
1.] Holiday Gifts
Looking for the perfect stocking stuffer? How about a donation to a cause your loved one cares about.
2.]Say Thanks
Has someone brightened your day? Donate to their favourite cause and let them know about it in your thank you note.
3.] Office Giving Pool
Get your co-workers in on the fun. Create a campaign and get your office giving towards a goal.
4.] Random Act of Kindness
Who needs a reason to share the joy? Make a donation to a cause, leave a note, and encourage others to pay it forward.
5.] Say It with Flowers
Sending flowers? Attach a donation to your beautiful buds for a gift that won't wilt or fade.
6.] Client Gifts
Show your clients that you appreciate their business by donating to a cause related to their industry.
7.] Go Local
You know all those museums and parks you visit? The local radio and TV stations you enjoy? Make a contribution to help keep your community strong.
8.] Family Giving Night
You've got pizza night and movie night. How about a family giving night where everyone finds causes they love and you donate.
9.] Donate Your Birthday
If your birthday falls during the giving season, create a campaign and ask people to donate to a cause instead of giving you gifts.
10.] New Years' Resolution
Make it your resolution to donate a certain dollar amount by New Years. Then you can say you met one of those goals!
Visit The Centre on Philanthropy's website provides a Charities Directory which can assist you in learning more about a charity you may be interested in giving to: www.centreonphilanthropy.org
Read More About
Category: All