77-year-old sailor Dr. Stanley Paris has ended his bid to become the fastest person to sail solo around the world from Bermuda, saying his boat Kiwi Spirit suffered unrepairable damage on Christmas Eve, and he is now headed for Cape Town, South Africa.
His latest blog post today said, "Once against my attempt to complete a solo circumnavigation has come to an end. On Christmas Eve the top quarter or the mail sail separated along a seam from the rest of the sail. This is not repairable by me at sea and given the gales I can expect before I round the tip of South America it is once again not advisable to continue.
"This of course is a big disappointment to me and too many who have wished me well. But that is life. I have never let difficulties get in my way of trying something worthwhile. I am always aware that failure can occur but I have never let the fear of failure deter or prevent me from trying. To do so would be to accept mediocrity and that I will never do.
Dr Paris' boat pictured off St David's, Bermuda at the beginning of his first attempt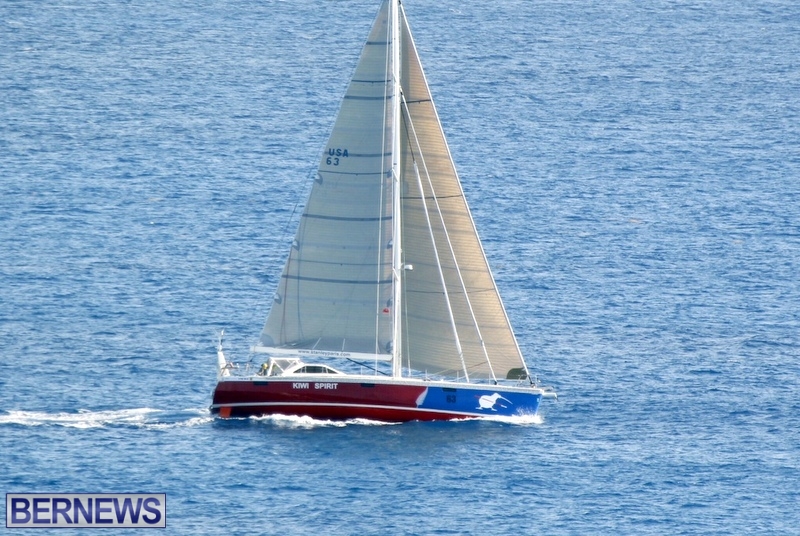 "To all who wished me well, family, friends, colleagues and school children I am sorry to disappoint you yet once again and wish you all well in following your dreams," continued Dr Paris.
"Now I head for Cape Town, South Africa where once again repairs will be undertaken and later a crew will bring Kiwi Spirit, such a wonderful boat, back to the United States.
"I am 680 miles from Cape Town and expect to be there in about five days going quite slow to conserve a limited fuel supply. Kindest regards and best wishes for the holiday season."
The New Zealand native planned to travel around the world in his 63ft boat Kiwi Spirit, hoping to complete the circumnavigation in less than 150 days 1 hour and 6 minutes to break the previous record set by American sailor Dodge Morgan in 1985.
This was the second attempt by Dr Paris, who stopped a similar trip in January of this year, and also headed to land in South Africa.
Read More About