Earlier this month, Dr. Stanley Paris embarked on his third attempt to solo circumnavigate the globe – starting from St. Augustine, Florida and going by way of Bermuda to challenge the existing 150 day, 6-hour record from Bermuda back to Bermuda set by Dodge Morgan in 1986.
Dr. Paris' first attempt was in 2014, but his deck fittings came loose about 50 days into the sail. The second time his mainsail tore in half.
Photo courtesy of Dr. Paris' website: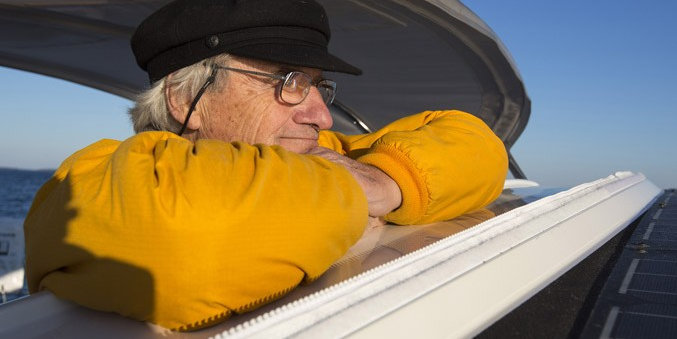 The 80-year-old, originally from New Zealand, had hoped his third attempt would set a world record for the oldest person to sail non-stop and solo around the globe. However, he recently announced that he will postpone this attempt until next year.
Dr. Paris explained on his blog: "The final straw occurred over the last two days when I learned from the WSSR (Word Sailing Speed Record Council) that even a successful restart from Bermuda and back again would not give me the record I seek as the oldest to have solo circumnavigate the globe as by the new rules I am short 346 miles."
The email from the WSSR said: "I understand what you want to achieve but the problem is that Bermuda to Bermuda does not comply with the "Around the World" rule … as the distance is too short. Dodge Morgan's voyage in 1985/6 was prior to the agreed definition and ruling, but has been generally grandfathered historically, although this route is not acceptable today. As previously discussed, this is why we have always timed the start of your attempts from St Augustine, as the attempt for the RTW, and then retiming you at Bermuda for the Dodge Morgan "record" … You need to extend the route by at least 346NM."
In addition to this news from the WSSR other factors that contributed to Dr. Paris' decision to postpone included: issues with power and power management, overheating freezers, problems with the autopilot and the lack of a backup generator.
The sailor will restart next December from St. Augustine to Bermuda without stopping and then circumnavigate back to Bermuda without stopping ending in St. Augustine.

Read More About
Category: All