Coldwell Banker Bermuda Realty recognized a record eight individuals for long service with the local real estate services company in 2014. Combined, these eight individuals have been in the real estate business for 125 years.
"In today's employment environment, retention of long serving staff members has become a challenge but in the local service sector it is key to our longevity and success." says Company President & CEO, Brian Madeiros.
Photo: Left to right back row: Brian Madeiros – President & CEO; Scott Powell – Commercial Representative [10 Years]; Jack Kripl – Sales Representative [15 Years]; Mike Chlebek – Property Manager [10 Years]. Left to right front row: Suzanne Stones – Appraiser [5 Years]; Joy Jones – Sales Representative [25 Years]; Heather Chilvers – Sales Representative [25 Years]; Karen Brine – Sales Representative [25 Years]. Missing from photo: Rob Newton – Appraiser [10 Years]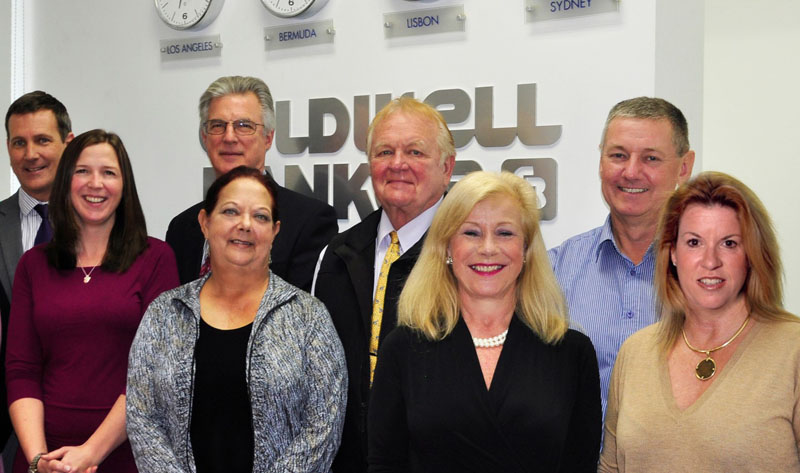 Special recognition was offered to three out-standing Sales Representatives for 25 years of service each: Heather Chilvers, who began her career on 27th April 1989, and Karen Brine and Joy Jones; who both started working with the company on the same day back on the 5th September 1989. "
We are very proud of all of our dedicated employees, but particularly appreciate the commitment of these three ladies who have experienced many highs and lows in the Bermuda real estate market." said Mr. Madeiros.
Coldwell Banker Bermuda Realty is a trade name of Bermuda Realty Company Limited, serving Bermuda's real estate and land surveying needs for over a quarter of a century.
Read More About