The year 2023 is a special year for Coldwell Banker Bermuda Realty celebrating 70 years since the start of the company in 1953 as L.P. Gutteridge.
A spokesperson said, "Bermuda Realty is one of, if not the oldest, real estate company in Bermuda. We also are celebrating our 25th year as a Coldwell Banker affiliated office.
"Coldwell Banker was founded in 1906 when Colbert Coldwell, a young real estate sales associate, observed families trying to piece their lives together following the disastrous San Francisco earthquake. In the earthquake's aftermath, Coldwell disapproved of sales associates who acquired properties from vulnerable sellers and greedily resold each property at a huge profit.
Fiona Hatfield, Brian Madeiros [President and CEO], Angela Hanwell and Adam Birch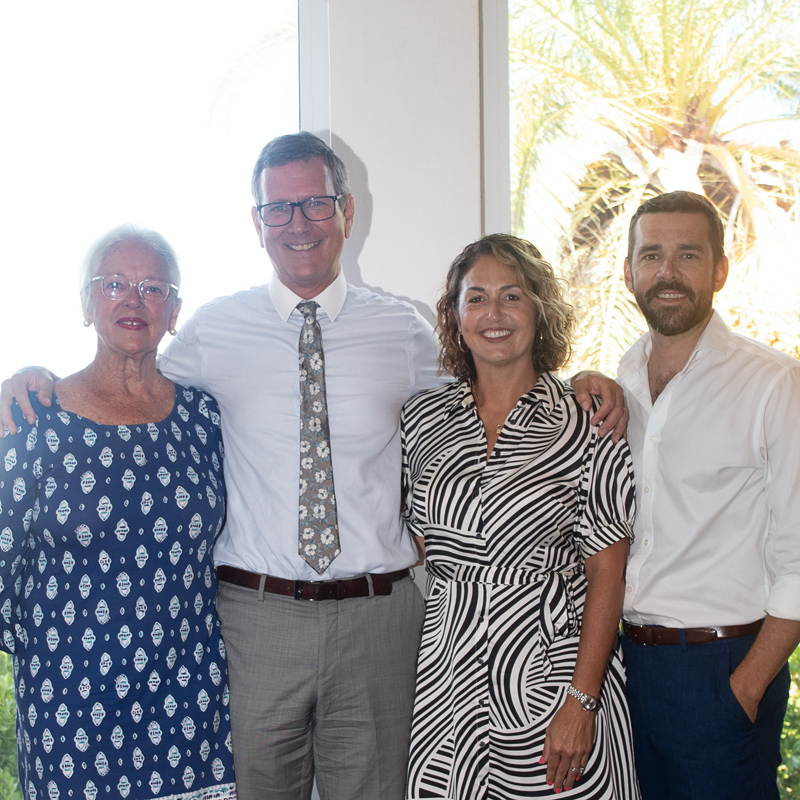 "Seeing a need for honest, empowering, and knowledgeable real estate professionals, Coldwell formed his own company, titled 'Tucker, Lynch & Coldwell.' In 1913, as the company grew, Coldwell invited salesman, Benjamin Arthur Banker, to accompany him on his mission. Eventually welcoming Banker as his partner, Coldwell's company evolved into Coldwell Banker, being based on the principles of honesty, integrity and service. Coldwell Banker is part of Realogy Holdings Corp. who is recognized for eleven consecutive years as one of the World's Most Ethical Companies by Ethisphere.
"In a celebration of this milestone anniversary, our tremendous team and honoring our top producing agents, Bermuda Realty Company Limited, proudly announces the recipients of its highly coveted Top Producers Awards. This annual event serves as a testament to the dedication, expertise, and exceptional contributions of our most outstanding team members who have demonstrated unparalleled commitment and success in serving our valued clients.
"The top achiever awards, represents the pinnacle of recognition within our organization. This year's award winners have not only achieved remarkable sales figures, but they have also consistently demonstrated a deep understanding of the industry landscape, exceptional negotiation skills, and a genuine passion for delivering the best results for our clients."
The recipients of the 2023 Top Agent Awards are:
Angela Hanwell – #1 Sales/Rental Agent
This is the second consecutive year that Angela has achieved the Top Agent award. When asked what her secret was, she said, "Hard work, expertise, and a genuine desire to make dreams come true has helped me achieve Coldwell Banker's top producing Agent. With every transaction, I've not only secured properties, but also built lasting relationships based on trust and satisfaction."
Adam Birch – #2 Sales/Rental Agent
Adam has been one of the top agents for four years running now. Adam stated, "There are two key factors to my success, the first is the long list of clients and customers – especially the ones who have given me repeat business over the years and trust with their real estate needs. They are invaluable and I've made so many lifelong friends along the way. The second is the support I have from my coworkers, managers and admin staff at Coldwell Banker. I have such great resources at my finger tips to be able to market and fully expose new listings to the market, whether rentals or sales. We have the databases, we have the knowledge and an open-door policy to share ideas within our company to help people find the homes that they love. I honestly love what I do, it isn't all smooth sailing but that would be dull!"
Fiona Hatfield – #3 Sales Agent
Fiona has been one of the top agents, countless times over her career. Upon receiving her award, Fiona said, "I have not lost the passion with the real estate business, it has been almost 39 years and still love this business."
The spokesperson said, "The recipients for the 2023 Top Producer Awards in Professional Service were:
David Monkman – Highest Revenue
"Prior to joining the team at Bermuda Realty, David had over 14 years experience between the West End Development Corporation and the Corporation of Hamilton. David also has a further 22 years of experience in construction and job management.
Phil Matthews – Highest Revenue Growth
"Phil is Senior Valuer and Property Manager within the Professional Services team and joined Bermuda Realty in January 2022. He is a member of The Royal Institution of Chartered Surveyors [MRICS] and holds a Bachelor of Science Degree with Honors in Property Management and Valuation gained in 2000 from The University of South Wales."
Larry Burke, CEO, Coldwell Banker Island Affiliates stated: "We take immense pride in the accomplishments of agents who have earned these awards for their exceptional performance. Our heartfelt congratulations go out once more to Angela, Adam, and Fiona. Their unwavering commitment to both the industry and their clients, along with their remarkable contributions to Coldwell Banker over the past year, are truly commendable. Bermuda has consistently set a shining example as a distinguished Coldwell Banker affiliate within the Coldwell Banker Island Affiliates group".
Closing remarks from President/CEO of Bermuda Realty Company Limited, Brian Madeiros: "The summer provides all of us with an opportunity to slow down and re-energize thanks to much needed vacations. This time of the year also provides our Coldwell Banker Bermuda Realty team with an opportunity to recognize our top team members for our recent fiscal year. To be a top producer it takes so much more than just hard work, grit and creativity. How you show up in your community and how you authentically connect with your customers and clients is paramount to your success. Our award recipients have clearly figured this out. It's gratifying to see their individual efforts have produced noteworthy results. I'm proud of David, Phil, Angela, Adam and Fiona's efforts and am grateful they are an integral part of our team. Congratulations!"

Read More About