Charlie Young, President & CEO, Coldwell Banker Real Estate LLC recently congratulated Brian Madeiros, President of Coldwell Banker Bermuda Realty and staff on being named 2016 Number One Office in Adjusted Gross Commission Income, for the Island Affiliates.
Mr. Young said, "An accomplishment of this magnitude requires individuals who are dedicated and committed to the highest level of achievement."
Coldwell Banker Bermuda Realty Award Winners: Makee Tucker, Fiona Hatfield, Susan Thompson, Nikki Thomas, Brian Madeiros. Front row from left, Heather Chilvers, Rochelle Swan, Karen Brine, Joy Jones, Sarah Faiella and Jack Kripl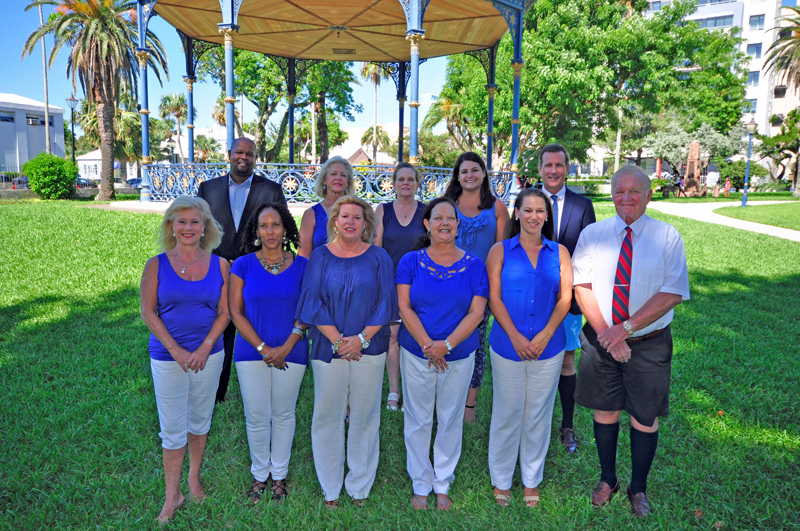 With this recent award, Coldwell Banker Bermuda Realty has been the top company in the Island Affiliate Region for the sixteenth consecutive year and a past member of the prominent Coldwell Banker Chairman's Circle, a designation limited to only 58 firms throughout the world.
Coldwell Banker Real Estate LLC has nearly 88,000 independent real estate professionals affiliated with approximately 3,000 offices in 49 countries.
Brian Madeiros and Fiona Hatfield were also awarded International President's Elite which is awarded to only 2% of sales associates worldwide.
Jack Kripl, Rochelle Swan and Heather Chilvers were all awarded International President's Circle [top 6%]; Karen Brine, Sarah Faiella and Susan Thompson were awarded International Diamond Society [top 11%] and Joy Jones and Makee Tucker were awarded International Sterling Society [top 17%].
"For the first time ever, Coldwell Banker Bermuda Realty has a member of 30 Under 30…Nikki Thomas. The Coldwell Banker 30 Under 30 features the most prominent and innovative members of our network who display a passion for preserving the lifelong dream of homeownership and create exceptional experiences for all they serve," the company noted.

Read More About