[Updated with more videos] The Morgan's Point developers are looking to submit their plans next month, commence building in June and complete the resort in early 2017, Morgan's Point CEO Craig Christensen told the audience at a Town Hall held last night [Feb 24] in Southampton.
The developers of the Morgan's Point Resort — which is slated for the former US Naval Base in Southampton/Sandys — held the Town Hall  to give the public a chance to hear about the first phase of the development which is set to include a luxury boutique hotel, a mega-yacht marina and residences.
The panelists included Morgan's Point President & CEO Craig Christensen, Rowland Bates of Southworth Development, Lane Pettigrew of LPA and Julia Van Beelen of Cooper Gardner.
Rendering #1 of the planned development: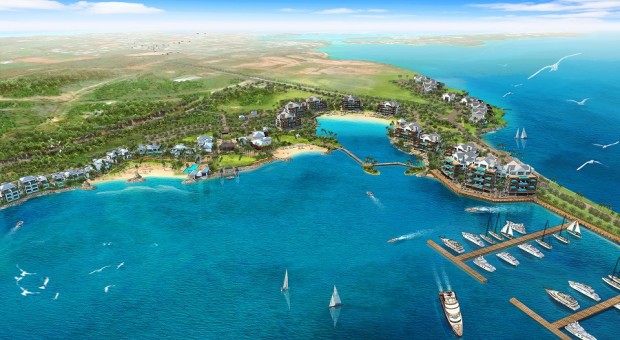 When asked about the expected timing of the development, Mr. Christensen said, "We are looking to submit our plans starting on March, next month. We are working rapidly at that with a full team. We are looking to commence building in June, and we are looking to complete the resort in early 2017.
"It's ambitious, but we're dedicated and will get that done. But we don't get things done in terms of Bermuda without having Bermudian support, so we need your help and your encouragement….we get that from all walks of life, we hope that you will embrace this project and give us the  encouragement to move forward."
Rendering #2 of the planned development: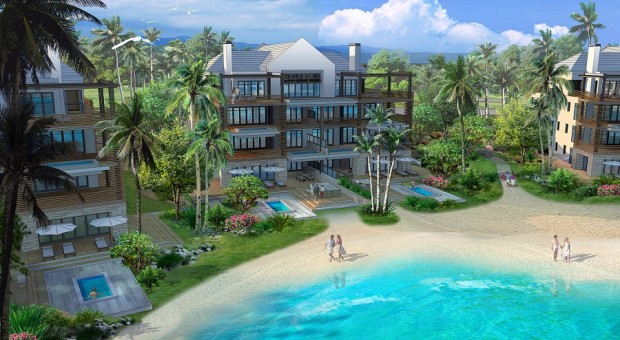 When an audience member asked how this development could be different from Tucker's Point which he said "wasn't doing too well," the panelist replied that, "We know about a great deal about Tucker's Point. We certainly respect the resort that is there.
"We believe that we created a product which is different than Tucker's Point. We also have a financing plan, a capital structure that is completely different than Tucker's Point, one that we have worked very closely on, specifically on the residential side, as well as the hotel side.
"We are starting out this project with a world renowned brand, as opposed to a boutique which is an independent hotel. We're using the horsepower of that brand worldwide to drive occupancy and demand into this property.
"We also have in our hopes and in our dreams, the effect of the America's Cup in 2017 to lift this resort from the first day that it opens to almost 100% occupancy, which is a great little asset to have."
Rendering #3 of the planned development: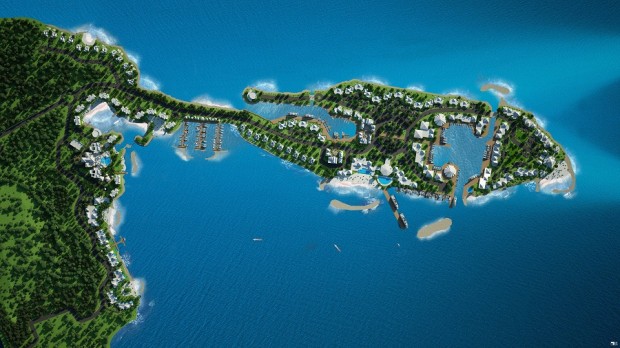 When asked what brand the development will be, Mr. Christensen said, "We are actually under an NDA [non-disclosure agreement], it's probably the best known secret in Bermuda, but let's just say we are moving rapidly to get that concluded."
As Mr. Christensen noted, it's the "best known secret in Bermuda" as last year in the House of Assembly, Minister of Finance Bob Richards said that Morgan's Point secured the Ritz-Carlton Reserve brand — the highest end of Ritz-Carlton hospitality brand — for the planned hotel in Southampton.
Rendering #4 of the planned development: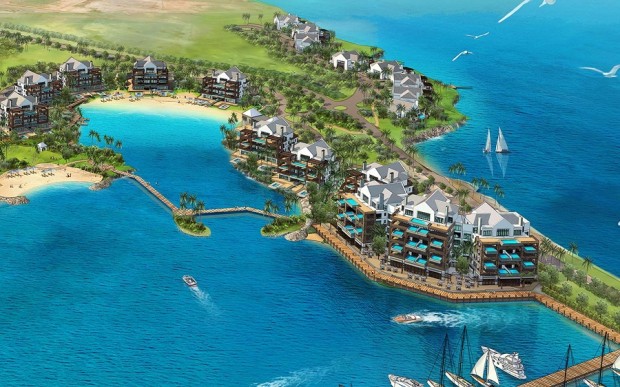 When asked when will the hiring of people [electricians/plumbers etc] to build the development start, Mr. Christensen explained that Morgan's Point Ltd is a development company, and as such will use general contractors so "will be looking at companies, rather than individuals", with Mr. Christensen adding that the companies will get "Bermudians into the employment field."
Speaking on the water access to the resort, Rowland Bates of Southworth Development said, "Guests and Bermudians who wish to travel to Morgan's Point by boat, which is something you can't do at most resorts, will be allowed to come to a dock, drop off their guests, and then go over to the marina which is very close by, and drop the boat off and then have dinner in a restaurant, have cocktails, go to a party or wedding in the main function space.
"So this is a very waterfront active site," added Mr Bates. "We have really worked hard to activate the property from the waterfront development perspective."
Update 1.04pm: Zane Desilva and Jamahl Simmons, the MPs for the area, attended the meeting, and after the meeting Mr. Simmons said, "I think it's cause for optimism. As the MP for the area, you want to see this happen, and I think a lot of people don't understand the role of the Opposition; we want the Government to succeed.
"We want projects like this to succeed, because it benefits our people, it benefits our children, it benefits the next generation of Bermuda.
"So I'm hopeful that we're hearing the right things, we're seeing the right things – our main concern is, become a reality, and also make sure that Bermudians get first crack at the jobs – qualified capable people who want to work get first crack at the jobs.
"If that happens, I think this is great for Bermuda and great for Bermudians," added Mr. Simmons.
Mr. Desilva, who is also the Shadow Minister of Tourism said, "I thought that it was fantastic of the Morgan's Point Group to have this meeting and to keep the residents, in particular – because there were a lot of residents from Southampton and the west end of the island here tonight – to keep them informed as to what they're doing.
"My hope is that the OBA government are supporting this particular development company in all that they're trying to achieve because, as we heard tonight, I'm certainly very encouraged that they seem to be in take-off mode."
Video #1: Q&A Part One
Video #2: Lane Pettigrew
Video #3: Introduction & Craig Christensen 
Video #4: Rowland Bates
Update – Video #5: Shadow Tourism Minister Zane Desilva
Update – Video #6: PLP MP Jamahl Simmons
Update – Video #7: Q&A Part Two
Update – Video #8: Q&A Part Three

Read More About