Morgan's Point Ltd. said they will "introduce Caroline Bay, Bermuda" as the "newest luxury destination resort, residential and yachting community redefining Bermuda."
"The newly-branded Caroline Bay, Bermuda will be situated on a secluded cove protected by a historic peninsula in the Great Sound in Southampton and Sandy's parishes on the Morgan's Point site," the company said.
"The setting honors Bermuda's rich maritime history and its treasured British traditions, while also signaling the welcomed renaissance of luxury lifestyle experiences for visitors and residents.
:The Caroline Bay, Bermuda development will feature a 5-star luxury branded boutique hotel, branded residences, spa, restaurants, fashionable shops and a mega-yacht marina.
"The new resort community is the vision of Morgan's Point Ltd., whose principals have joined with world-class partners to create a sophisticated resort project that will embrace the charm and natural beauty that is Bermuda in surprisingly fresh and adventurous ways.
Rendering of the Cove Residences at Caroline Bay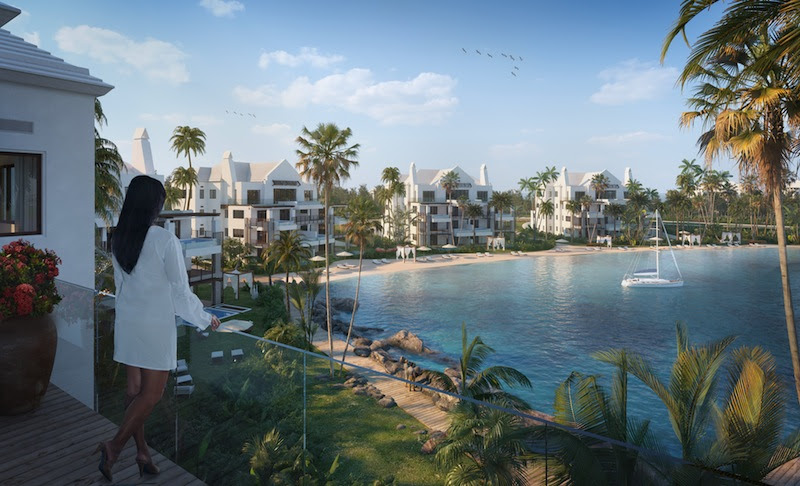 "After years of planning, it's gratifying to announce this milestone project," said Craig Christensen, president and chief executive officer of Morgan's Point Ltd.
"Our intention is to recapture for modern travelers the storied, relaxed glamour of Bermuda during the 1950s and 1960s in ways that feel new, inspiring and are available nowhere else on earth.
"At the same time, we will celebrate our love of the sea and sailing – both with the upcoming America's Cup race next year and the future mega-yacht marina for residents and transient sailors alike.
"Perhaps most important, as a native Bermudian, is that we will share unique insights into our distinctive culture, its art, music and food, while also making a difference in the lives of people who are and will be our future employees."
Mr Christensen also commented on the opportunities awaiting Bermudians in both the development stage and once the resort is fully operational, saying that the project is well underway, hiring several sub-contractors to complete the preliminary land preparation work and slated to bring on more in the months and years ahead.
"With the funding in place and a five-star global hotel brand secured, the Morgan's Point development is poised to bring a myriad of opportunities for our fellow Bermudians," he shared. "We are so pleased that our project is providing many employment opportunities.
Rendering of the Hotel Guest Rooms at Caroline Bay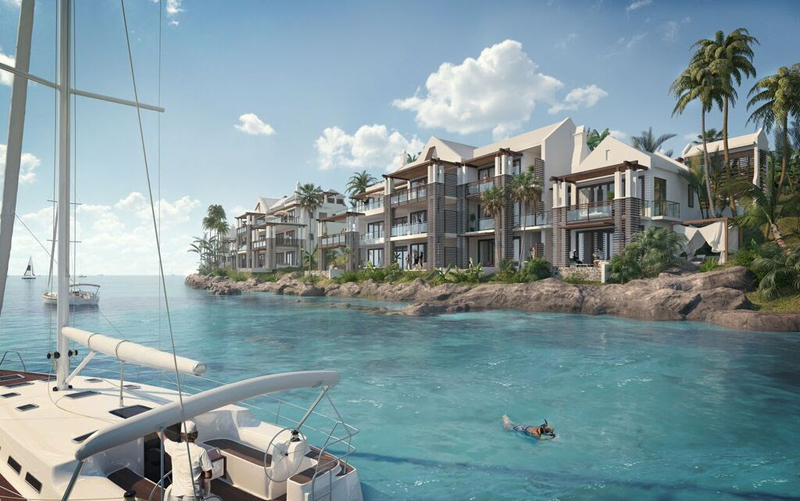 "Bermudians have been through a long and painful recession, and we are confident that this project will be a catalyst in pulling us out of these depths. In addition to an abundance of construction work, the hotel will open in late 2018—creating career paths for Bermudians aspiring to be a part of this unique luxury offering in Bermuda."
One of the local companies that has seen the benefits of working on this important development is David Durham, owner of Building Blocks Construction.
Mr. Durham said, "Building Blocks Construction has been provided some great opportunities to work on the Morgan's Point, Development, first through the remediation cleanup of the facility though the Bermuda Government and further with Morgan's Point Ltd. where we have been fortunate enough to have worked on the site preparation as well as with the building of the Artemis Racing Base.
"Working with Morgan's Point Ltd. we have been able to pass on opportunities by employing Bermudians directly and hiring a number of sub-contractors and various vendors. This has been a very positive experience for us and I am confident that I will not be the only company to benefit from this large development."
The company said there "will be more information in the coming weeks for Bermudians seeking employment on the development outlining the opportunities and the channels to seek employment."

Read More About