North Village Community Club announced that BELCO made a significant commitment to the organisation by donating $12,000 to assist with the Club's Education Centre Initiative.
President Stephen Coddington said, "North Village volunteers have worked tirelessly to implement a homework club since opening the Butterfield & Vallis Education Centre at the beginning of the season.
"I'm pleased to say that it has finally come to fruition. The homework club offers our youth players a safe, supervised environment in which to complete their homework and to receive tutoring under the guidance and influence of seasoned Educators."
Left to right: Shelly Leman, Manager, Major Accounts and Dennis Pimentel, Vice President, BELCO Energy Delivery, and Stephen Coddington, President, North Village Community Club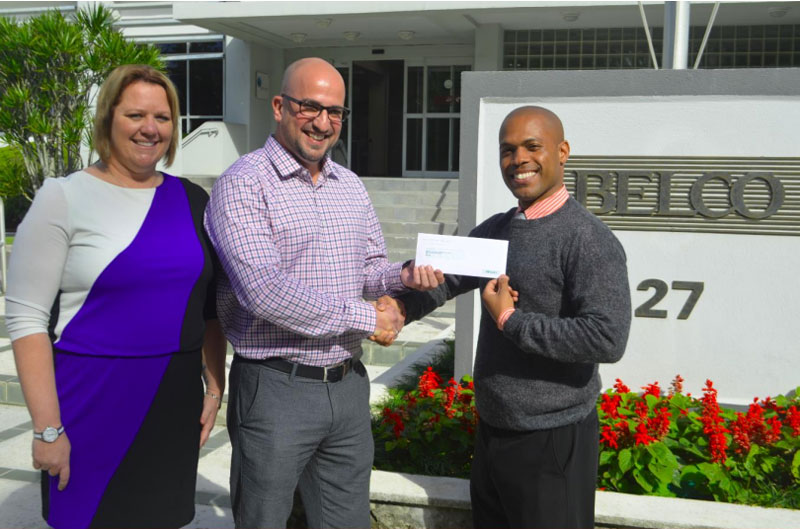 He continued, "We are making great strides with our youth program and community enrichment efforts. This donation is vital in helping us to reach our fundraising goals. We are very grateful to BELCO for their generosity and for believing in us."
Dennis Pimentel, BELCO Vice President, Energy Delivery, said, "As one of the Island's oldest and largest local companies, we take our responsibility of being a good corporate citizen very seriously. We are happy to be able to help North Village with their Education Centre Initiative so that they may continue to do the good work that they do for our community."
Coddington stated, "It has been hard work but this sponsorship gives us all a lift. It is our hope that others will be able to help, it relieves the constant pressure we are under."
"North Village continues to seek new partners and sponsorship. If you wish to find out more about how you can help North Village please visit www.northvillage.bm or contact marketing@northvillage.bm," a spokesperson said.
Read More About