North Village hosted its annual triangular football fundraising event last month in an effort to raise funds for popular North Village Community Club footballer and DJ, Kacy Simons, who is suffering from a rare form of cancer.
The club's efforts bared fruit as President Stephen Coddington presented a cheque for $4,000 to Mr. Simons yesterday.
"On behalf of North Village, I am pleased and delighted to be able to present this donation to Mr. Kacy Simons. Kacy was a member of North Village's first team and now the Master's Division team.
"Kacy participated in the club's previous fundraising events to support other members suffering from illness and in need of financial assistance. It is only fitting that in this, his time of need, North Village would do its utmost to support a long serving and beloved member", said Coddington.
Pictured, back row: Stephen Coddington [North Village President], Vernelle Crockwell [Kacy's sister], Marlene Somner [Kacy's Mother], DeRoy Somner [Kacy's Brother] Front row: Kacy Simons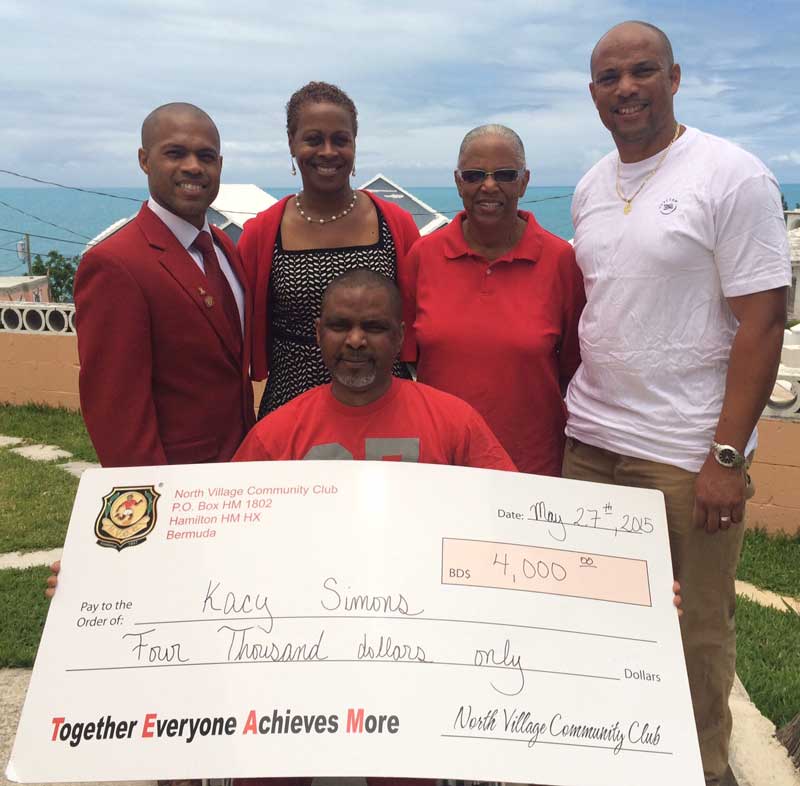 After suffering from back pain for approximately 8 months, Kacy was diagnosed with multiple myeloma, a type of cancer that begins in the blood's plasma cells. To date, Kacy has received two treatments overseas and he continues to receive chemotherapy locally.
When asked what the donation meant, Kacy's sister, Vernelle Crockwell said, "On behalf of Kacy and our family we would like to thank North Village for all of their fundraising efforts and support. As soon as North Village learned of Kacy's plight, they did not hesitate to rally around us and assist in any way possible.
"To North Village and those in the community that have supported their fundraisers, please know that you have blessed Kacy and our family immeasurably. We thank you from the bottom of our hearts and pray that God will continue to richly bless you all."
Anybody still wishing to make a donations can do so by online bank transfer to North Village's HSBC account number 010362564001. All online transfers should reference "Kacy Simons".
This marks North Village's 4th annual triangular football fundraiser to benefit one of its members suffering from illness and in need of financial assistance. Former recipients of the funds raised include Mark "Burger" Jennings, Stevie Dickinson and Kamala [Nakia] Smith.
Read More About