Chef Michiko Campbell, the owner and creator of popular Chiko's Smokey Rub, is continuing to see his product appeal to people from around the world, with one customer taking the time to pose with his bottle all the way from the Azores.
Chiko's Smokey Rub has sold close to 4,000 bottles thus far, according to Chef Campbell, with two of his latest flavours, Ham Seasoning and Triple Garlic Fusion, helping that number to continue to grow.
Chef Campbell said, "Customers have been from England, Australia, Canada, USA, Portugal. Recently got an email from a customer who came here by cruise ship last September and was looking to get some more. Word is definitely spreading.
"It's a great feeling. I'm getting emails from customers all over telling me how much they enjoy the seasonings and they use it every night, and even being asked to be a personal chef at events."
Customer in the Azores with his bottle of Chiko's Smokey Rub: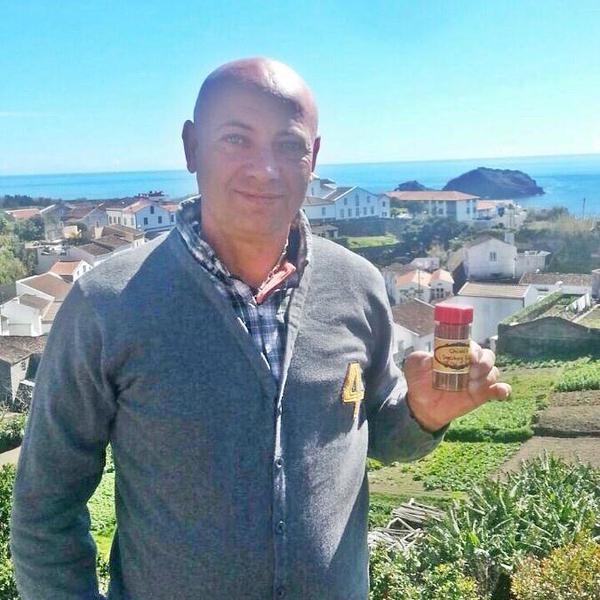 In reviewing the rub, the customer said, "I was so excited to take my Chiko's Smokey Rub with me to my family and friends in Agua De Alto, Saõ Miguel, Açores. I am happy to be the first person to bring this to the Açores.
"I love this seasoning. I use it on all my meats, fish, seafood and even in stir fries. I don't know what Chiko puts in this but I love it. I am using it in my traditional Portuguese food here in Açores. Yesterday I used it with octopus and today it was in a fava bean soup. My mother used the triple garlic fusion today and said she wished I had taken more!
"I don't know how many Portuguese people cook with it in Bermuda, but I think they will be surprised how well it goes in our traditional food."
Chef Campbell's cooking prowess was recently on display as Bermuda's culinary and cultural heritage was featured at the Charleston Wine + Food Festival, with the young Bermudian taking part in the Sunday Gospel Brunch this past Sunday.
Four chefs represented the Bermuda side of the brunch menu, including Chef Campbell, Andre Greene formally of Greg's Steakhouse, Karsten Krivenko of Tribe Road Kitchen, and Douglas Sisk of The Reefs.
To order Chiko's Smokey Rub, call 704-4566 or email chikosmokeyrub@hotmail.com. For more information, visit the Facebook page and official website.

Read More About
Category: All, Entertainment, News