Bermuda's culinary and cultural heritage will be on display at two sold-out events at the Charleston Wine + Food Festival this week, courtesy of a Bermuda Tourism Authority [BTA] promotional partnership.
According to their 2014 annual report [PDF], last year's Charleston Wine + Food Festival welcomed more than 21,500 guests, with 64% from the Charleston tri-county area, while most the other guests came from areas including Atlanta, Charlotte, Jacksonville, New York City, and Washington, DC.
Wine, wreck diving, intrigue and storytelling are on tap at one wine event, while culinary talent, musical entertainment and celebration will be served up at the Sunday Gospel Brunch.
BTA Chief Sales and Marketing Officer, Victoria Isley, stated: "As foodies from around the world converge on the historic American city they will savor Bermuda's flavors and hear about one of the island's modern-day treasure hunt stories. This type of experiential marketing and storytelling brings the Bermuda experience to life for potential travelers."
A Wine Event 150 Years in the Making [Link]
During the height of the Civil War in 1864, a blockade runner ship, the Mary-Celestia, was on her way from Europe to South Carolina via Bermuda. She sank under mysterious circumstances off the coast of Bermuda, but a storm in 2011 revealed one of her secrets.
Hidden in her bow lay a personal haul of contraband including a case of fine wine that was incredibly still intact. "The rest of the story" will be revealed as the wine completes its 150 year journey and is delivered to Charleston during the Festival.
A French Master Sommelier has concluded his investigation into the wine's origin and on Friday will share his findings for the first time. Bermuda's Custodian of Wrecks, Dr. Phillippe Rouja, who was on the 2011 dive that recovered the treasure, will also make a presentation to festival goers, promoting Bermuda's lure as a world leading shipwreck dive destination.
Screenshot of the official  Charleston Wine + Food Festival Facebook page promoting the wine event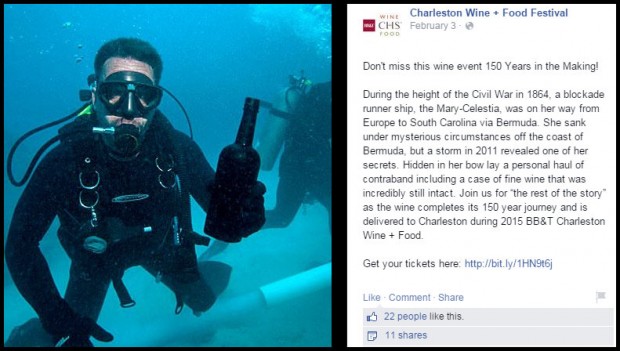 Sunday Gospel Brunch [Link]
In addition to Bermuda's underwater heritage, the island's culinary legacy will also be on display at the popular Sunday Gospel Brunch. The BTA is the sponsor of the brunch, where Bermuda and Charleston chefs will create a family-style feast under the joyful hum of a live gospel choir along with the soulful sounds of Bermuda's own Joy T. Barnum.
Representing the Bermuda side of the brunch menu are four chefs with diverse career backgrounds: Michiko Campbell of Royal Bermuda Yacht Club; Andre Greene formally of Greg's Steakhouse, Karsten Krivenko of Tribe Road Kitchen and Douglas Sisk of The Reefs.
A BTA spokesperson said, "The BTA has previously outlined a strategy to strengthen arts and culture tourism in Bermuda, including the island's shipwreck heritage and culinary traditions. The Charleston Wine + Food Festival was identified as a strategic opportunity to further these objectives based on a number of factors:
The profile of visitors to Charleston and Bermuda are aligned, as well as Festival attendees
Festival attendees hail from Charleston, Atlanta [supporting Delta's direct service from Atlanta to Bermuda], Charlotte [seasonal American/US Airways], Washington, DC [seasonal American/US Airways] and New York City [multiple airlines].
The cultural and historical links between Charleston and Bermuda – from the intriguing story of the Mary-Celestia to the Bermuda limestone that helped create the foundation for the city."
Read More About