[Updated with video] There was a sold out crowd when the Bermuda Bodybuilding & Fitness Federation [BBBFF] hosted their 3rd Annual Extravaganza tonight [April 11] in the Earl Cameron Theatre at City Hall.
Family, friends, trainers and supporters filled the theatre to cheer on their favorite athlete of the night with some of the crowd sporting signs and balloons.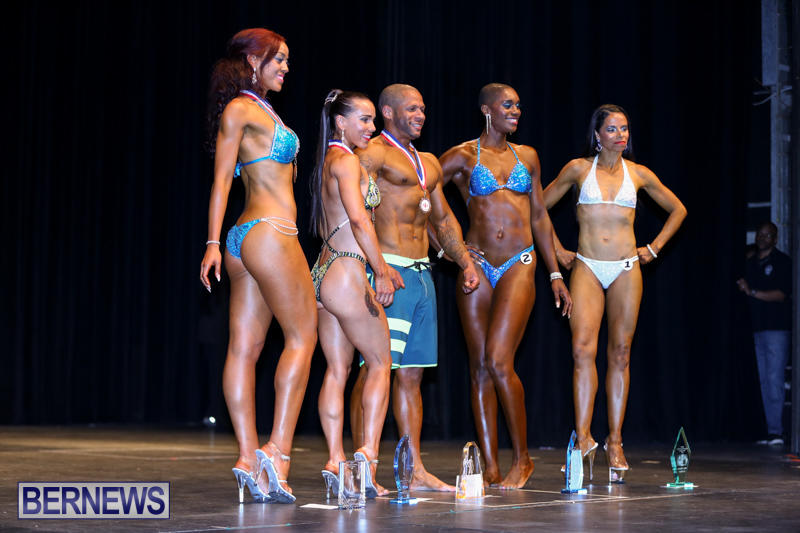 The winners of the night's competitions included Shaylee Trott who won the Bikini Fitness category, Monica Teixeira won the Figure Fitness category, Terrence Lightbourne won the Men's Physique category, Sophia Cannonier won the Women's Fitness category and Andrea Jackson won the Women's Physique category.
Update: Video of the winners being announced
Photos and video will be posted later. The complete list of how the athletes placed in their individual categories follows below.
Bikini Fitness:
1 – #9 Shaylee Trott – Positive Results
2 – #3 Lauren D'Amico – Court House/Positive Results
3 – #5 Rebecca Johnston – Positive Results
4 – #4 Carrie DeSilva – Seaview/Athletic Club
5 – #25 Danielle Marr – Alchemy
6 – #8 Ryen Robinson – Court House/Alchemy
7 – #6 Chanika Jones – Seaview
8 – #7 Allison Lacoursiere – Studio One/Volleyball
Figure Fitness:
1 – #12 Monica Teixeira – Positive Results/Seaview
2 – #10 Sarah Cardwell – Seaview
3 – #11 Jeana Jones – Police Gym
Men's Physique:
1 – #19 Terrence Lightbourne – BEAST Gym
2 – #15 Javon Darrell – Seaview/Positive Results
3 – #14 Cervio Cox – Seaview
4 – #23 Dave Wolfe – Magnum's
5 – #22 Tori Wine – Athletic Club
6 – #18 Michael Jones – Magnum's
7 – #24 Kacper Kulig – Alchemy
8 – #16 Adam De La Cruz – Seaview
9 – #21 Paul Simons – Police Gym/Seaview
10 – #20 Juan Looby – Athletic Club
11 – #17 Omar Jones – Olympic Club
Women's Fitness:
1 – #1 Sophia Cannonier – Fusion Fitness/Lotus MBW
Women's Physique:
1 – #12 Andrea Jackson – Seaview/AbsbyDre

Read More About