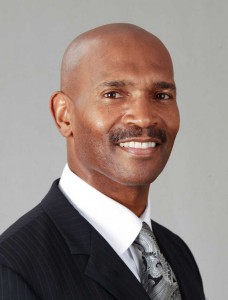 The Bermuda Health Foundation [BHF] has announced that Patrick Tannock [pictured], President of XL Insurance [Bermuda] Limited, has agreed to accept BHF's Salute to Service Award at their 13th Annual Awards luncheon to be held on Friday, June 19.
A BHF spokesperson said, "Mr. Tannock was chosen as this year recipient because of his commitment and dedication to moving Bermuda forward through by way of his professional and personal life. Mr. Tannock has become an icon in the Bermuda community, moving up the corporate ladder in international business.
"He is currently the Chairman of the Association of Bermuda International Companies [ABIC]. In January 2011 Mr. Tannock became the first Bermudian to be inducted into the Hall of Fame at the University of Hartford's Barney School of Business.
"Mr. Tannock also serves as a mentor to several young Bermudians. Mr. Tannock joins a list of outstanding Bermudians who have been recognized by Bermuda Health Foundation. Last year, Mrs. Bernella Williams was the honouree for this prestigious award.
"Other recipients include Mr. Reginald Burrows, Bishop Vernon Lambe, Dr. Clarence James, Dr. Eugene Harvey and Dr. Malcolm Brock to name just a few.
"Bermuda Health Foundation will also present scholarships to worthy Bermudians who pursuing careers in the healthcare field. Last year, through generous donations from Bermuda's corporate and private sector, the Foundation was able to present Jacqueline Simons and Isaac James with scholarships in the amount of $10,000each.
"The Salute to Service Awards Luncheon will be held on Friday, June 19, 2015 at the HabourView Ballroom at the Hamilton Princess Hotel. Tickets are available at $125 each.
"In addition to the "Salute to Service" Awards Luncheon, the Bermuda Health Foundation also hosts an Annual Charity Golf Tournament. This year's tournament will be played at Belmont Hills Golf Course on Saturday, June 20, 2015.
"Those interested in purchasing tickets for the luncheon or participating in the golf tournament should contact LaVerne Furbert at 335-8232 or at lavernef@northorock.bm. Tickets are available at $125 each for the luncheon. Entrance fee for the golf tournament is $150.00 per person or $600 per team."
Read More About