As Opposition Leader Marc Bean spoke before the Censure Motion against him passed during Friday's sitting of the House, he said when he said "I will take you out" on March 13th, it was in a "political sense" and a comment made when the "House was in disrepute."
Censure Motion Passes
On March 16th, OBA MP Mark Pettingill gave notice of a motion which "condemns and expressed disgust at the words and actions" of the Opposition Leader Marc Bean, and "censures the member accordingly" and "suspends the member from the service of the House."
This follows after the heated session on March 13th, which saw the PLP MPs exit the Chamber in protest over the Speaker's decision to eject David Burt, with Mr Bean saying "I will take you all out" as he left the Chamber.
Audio excerpt of the exchange on March 13th which saw the Speaker call for Mr Burt to be removed
During Friday's sitting, the Censure Motion passed with 19 "yes" votes, with all OBA MPs voting in favour; while all PLP MPs abstained from voting saying the "PLP felt that to participate in the vote would legitimize what we believe to be a flawed motion and flawed procedure."
After the vote passed, Mr Bean was asked to leave the floor of the House and, with the police present, he was escorted out to begin his one-week suspension.
Objections Raised During Mr Bean's Speech
During Mr Bean's speech, for which he was allocated the standard 30 minutes, he was interrupted multiple times, with the Speaker repeatedly stopping him, OBA MPs raising various objections including saying the Opposition Leader was "impugning improper motives," while Opposition MPs spoke in support of allowing Mr Bean to speak on the topics he was trying to address.
The Speaker stopped Mr Bean on multiple occasions, the first time being when Mr Bean tried to bring up "Jetgate," with the Speaker saying he cannot impugn other members without a substantive motion, saying the topics Mr Bean was trying to raise were for "debate another time."
Opposition MPs who spoke during Mr Bean's speech included Michael Scott, Derrick Burgess and Jamahl Simmons. Mr Simmons asked the Speaker if he felt he had a conflict of interest in regards to Mr Bean, Mr Scott said Mr Bean "should not be constrained in defending himself," while Mr Burgess said the "Leader of the Opposition has a right to defend himself."
Multiple OBA MPs raised objections saying he was "impugning improper motives," with Minister Dr Grant Gibbons saying "he is making it up as he goes along", Attorney-General Trevor Moniz saying Mr Bean should "not shout at members and gesticulate across the floor at people," while Mark Pettingill called it "absolute baffling nonsense" at one point.
Mr Bean's Speech
Mr Bean began his speech by saying, "Mr. Speaker, I would like to first begin by extending my profound apologies to the people of this country for the tumultuous period of transition that we find ourselves proceeding through.
"In fact, Mr. Speaker, earlier this week, I spoke to my Deputy Leader, and I said 'You know David, I look forward to the day when we can turn our swords into plow shears, Lord knows all the people in our country desire and require us to work to turn the corner for this country.
"Mr. Speaker, I can't wait for that moment, so I apologize to everyone who desires to see progress and peace and prosperity in our island home, for what has occurred for the last two and a half years.
"Mr. Speaker, every cause has its effect, every action has its equal and opposite reaction. Our responsibility as the loyal opposition is to hold the government to account.
"Mr. Speaker, I will now send out a note to all those who hear my voice in the general public who, for some reason, do not like to hear the truth and take offence to hearing the truth. Here's your opportunity to turn your radio off. Turn it off and come back in 30 minutes.
"Mr. Speaker, before I give my presentation as a response to this bogus motion lead by none other than honourable and learned member Mark Pettingill, I would like to preface my comments with a prayer….
"Mr. Speaker, this motion is based on comments that I made and I said, 'I will take you out…I'm the Opposition Leader.' This was made when the House was in disrepute. But I understand the game, whether it's political or legal games, that the One Bermuda Alliance like to play.
33 minute audio of Mr Bean's full speech prior to the Censure Motion being passed
Mr Bean continued, "Mr. Speaker, the Parliamentary Act speaks of bribery laws – Parliamentary Act 1957 [PDF] – because I also said that, after I take you out – it's because according to the Parliamentary Act 1957, you are all facing 15 years up Westgate.
"And for the learned persons who don't understand the esoteric meaning of the western gate, it is the gate to hell. The esoteric meaning…some of us, I guess, are a little more learned than others.
"Mr. Speaker, may I quote: 'Acceptance of bribe section 15, Parliamentary Act 1957. Any member of either House of the Legislature who seeks, receives or obtains, or who attempts or agrees to receive or obtain, any bribe, fee, compensation, gift, reward, or other property, or any other benefit of any kind..
Mr Bean continued, "Let me tell you what the fine is…'That person should absent themselves from that House or legislative committee. The punishment on summary conviction is a $50,000 fine or imprisonment for 5 years, or both; and on conviction on indictment, an unlimited fine or imprisonment of 15 years, or both.'
"So Mr. Speaker, may I explain what I meant when I said that," added Mr Bean. "We have already noted in this honourable Chamber the Jetgate debacle….
Speaker of the House Randy Horton then stopped Mr Bean saying: "Honourable member, just let me, if you just take a seat for a moment, then I can help guide you, all right. This motion is a substantive motion regard to behaviour of the Leader of the Opposition. In order to impugn improper motives of any other member or to indulge in personalities, there must be a substantive motion.
"There is nothing wrong if one wants to go that route, you can go that route, but it must be on a substantive motion," added the Speaker. "You cannot impugn improper motives, and not in this regard. The reason why members are allowed to speak about your personality, is because it is a substantive motion."
Mr Bean then continued his speech, saying: "There is a reason why I mentioned 15 years in the Parliamentary Act…Jetgate investigation is still ongoing. It's open. And what people suspect, what the investigation hasn't proven yet, is that there is potentially something untoward. We have money being received, $350,000…"
He was then stopped by the Speaker again who said, "As you speak, you cannot impugn motives of whatever anyone else has done. If you want to impugn other members you must do it by a substantive motion, which is what this is."
Mr Bean then continued his speech, which saw additional interjections from the Speaker and MPs from both sides of the aisle, and the full audio of Mr Bean's entire speech is posted above.
Delivering Information To Police Financial Crime Unit
At one point in his speech, Mr Bean said "I am privy to certain information" and also said he "had a meeting with Stephen Decosta." He reeled off a list of what he said were four pre-paid phone numbers and made some comments referencing Mr. Decosta, a text message, an offshore bank account and more.
Mark Pettingill said that if he knows anything, he should take it to the police, and Mr Bean replied, "Don't worry, I will deliver these phone numbers to the Financial Crime Unit. Soon as I finish."
"Actually, I will walk down there now," Mr Bean added as he finished his speech on Friday.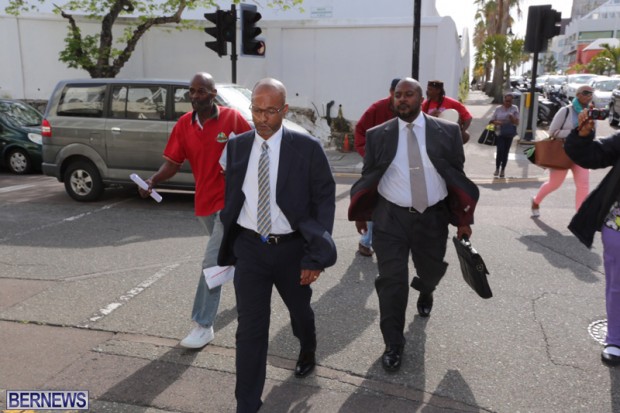 After Mr Bean finished his speech, he was seen to leave the Chamber and walk down the street [pictured above], with it appearing he went to the Hamilton Police Station.
He returned a short while later, and was then removed from the Chambers as the Censure Motion against him had passed and the Motion had called for him to be suspended from "the service of the House," so he was suspended for a one-week period.
Mr Bean Says Speaker Position Not "Tenable"
Speaking after the Censure Motion against him passed, Mr Bean had strong words about the Speaker, who is reported to have filed a police complaint against him a few weeks ago.
The Speaker also has a Censure Motion pending against him following his decision on March 13 to eject PLP MP David Burt from the House for trying to make Points of Order over an amendment being taken straight to a vote without debate. The Speaker subsequently said."I now accept that I should not have allowed the amended motion to be brought to a vote…"
"Next we will bring a Censure Motion to explain why the Speaker's position is no longer tenable," Mr Bean said, adding:"next week will be the last week that Randy Horton will be a Member of Parliament in this House."
After notice was given of both Censure Motions in March, Mr Bean told Bernews, "We have seen a pattern of decision making and governorship by the Speaker and this House over two and a quarter years, and I think any casual observer can recognize what is at play.
"When the time comes for dealing with this Censure Motion against the Speaker, rest assured I will reveal everything, and at that point, we'll see what happens, but there wouldn't be no laughing from the One Bermuda Alliance."
Other Police Involvement
In addition to Mr Bean apparently delivering documents to the Police Financial Crime Unit on Friday, the police are involved in other matters pertaining to politics, including pending charges against Mr Bean in relation to alleged words outside a polling station last year, the Speaker making a complaint to the police about Mr Bean, the police investigation into the BPAC bank account funded by the $350,000 donation, as well as the police complaint filed over the alleged 'throat slitting' gesture at the House in December 2014.
Read More About