The Censure Motion against Speaker of the House Randy Horton was carried over again during the most recent sitting of the House of Assembly, leading the Premier to say he "feels "that a Motion of this serious nature should have been taken up at the first opportunity."
In March 2015, PLP MP Michael Scott gave notice of a Motion seeking to censure Speaker of the House Randy Horton for what they said was his "misconduct of suppressing debate in the House of Assembly" and the "misuse and abuse of his authority as Speaker."
The Opposition's Censure Motion followed Speaker Horton's decision on March 13 to eject PLP MP David Burt from the House for trying to make Points of Order over an amendment being taken straight to a vote without debate, and the Speaker subsequently said that "with the benefit of hindsight, I now accept that I should not have allowed the amended motion to be brought to a vote at such an early stage."
Screenshot of a tweet sent by the OBA account: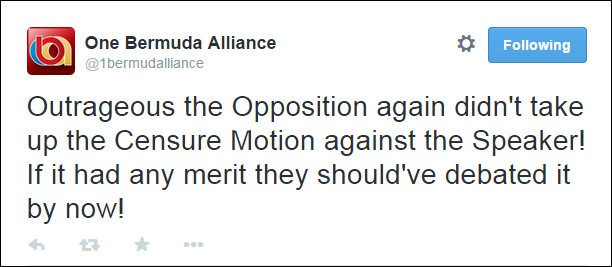 Speaking during the Motion to Adjourn on Friday, Premier Michael Dunkley said, "I just want to draw my concern that item number 23, the Motion laid by the honourable member Mr. Scott who is not in the chambers at this time, for 2 weeks now hasn't been taken up.
"Mr. Speaker, my colleagues and I feel that a Motion of this serious nature should have been taken up at the first opportunity. Now we will adjourn tonight and next week will be the third opportunity for the Motion to be taken up.
Audio excerpt of the Premier speaking in the House
"I think it's unacceptable, inappropriate that this motion is allowed to stay on the order paper. It needs to be dealt with at the earliest possible opportunity, Mr. Speaker. I just want to note that for the record," added the Premier.
"There's no explainable reason why the honorable member hasn't picked up the motion. If they felt so aggrieved, they put it down a couple of weeks ago, they could have picked it up as soon as appropriate and dealt with it and not carried over from week to week. It is simply unacceptable at this point. Thank you, Mr. Speaker."
Read More About