The ninth annual Future Leaders Awards Ceremony was held last night [May 28] at the East End Primary School auditorium, with parents, friends, school staff, and supporters attending the ceremony, which saw exceptional students honoured for their achievements.
Awardees included Jailyn Boddington and Naji Bean from East End Primary School, Maximilian Santiago and Saneyah Richardson from St. George's Preparatory School, Ruth Mello and Zyon Minors from St. David's Primary School and, Amara Bartram and Kyesja Jones from Clearwater Middle School.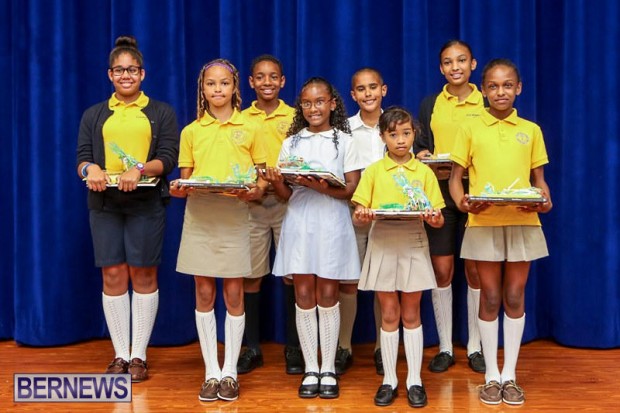 In attendance were St George's Mayor Quinell Francis, MP Lovitta Foggo, Senator Diallo Rabain, Senator Renee Ming, Dame Jennifer Smith, Mrs. Beckles of East End Primary, and Mrs. Lodge of St. George's Preparatory.
Dame Jennifer Smith hosted the event from 2007 until 2012; Senator Ming now serves as host. For the past nine years, the Principals of the 'eastern' area schools have been asked to submit the names of two students who exemplify the qualities of a good leader.
The awards are presented to students who are of graduating age from their respective schools.
The criteria for selection are the attributes which show consistent academic achievement, promise, vision, good character, respect for oneself and others. Each of the Principals submits a biography of their selections, which is read out during the award ceremony.
The event began with a welcome from Raoul Ming, with Sherri Simmons serving as Mistress of Ceremonies. An opening prayer was offered by Pastor Lorne Bean, with a musical selection provided by Rickeesha Binns.
A Presentation of Speaker Senator Renee Ming was followed by a speech from Gayneté Edwards and comments and remarks from Dame Jennifer Smith, before a vote of thanks from Senator Ming.
.
Previous Future Leaders Awardees include:
2014
Jade Smith and Keith Whorms, East End Primary School
Amon Cannonier and Asia Fubler, St. David's Primary School
Zephaniah Trott and Noldre Brown, St. George's Preparatory School
Alyssa Fox, Jayquan Dill and Isaiah Camara, Clearwater Middle School
2013
Jacari Renfroe, East End Primary School
Matthew Mello Cann and Nature' Symonds, St. David's Primary School
Atiya Furqan and Sage Carter, St. George's Preparatory School
Chanara Smith-Rookes and Stephan NKeulu, Clearwater Middle School
2012
Sitaysia Simons and Zahn Richardson, East End Primary School
Zakiya Simmons and Nakal Goater-Price, St. David's Primary School
Larissa Simmons and Leo Harris, St. George's Preparatory School
Taiyana Allen and Vance Wall-Brown, Clearwater Middle School
2011
Alys Webber and Xavier O'Connor, East End Primary School
Kyesja Jones and Isaiah Camara, St. David's Primary School
Rickie Williams and Nasir Simmons, St. George's Preparatory School
Asante Chapman and Malik Alick, Clearwater Middle School
2010
Kadaisha Fox and Tyreese Cheeseman, East End Primary School
Chanara Smith-Rookes and Ezekiel Swan, St. David's Primary School
Keiasa Desilva and De-Roger Hollis-Trott, St. George's Preparatory School
Jasmyn Renfroe and Corey Outerbridge, Clearwater Middle School
2009
Zenawi Bowen and Alea Whorms, East End Primary School
Tariq Basden and Brianna Adams-Thompson, St. David's Primary School
Satori Anderson and Tahje Taylor, St. George's Preparatory School
Lateef Trott and Shaunte' Young, Clearwater Middle School
2008
Sinae Smith and Kyle DeRoza, East End Primary School
Dominique Burgess and Cameron Neal, St. David's Primary School
Satori Anderson and MaQuille Walker, St. George's Preparatory School
Kameron E. Creighton and Rokeyah Brown, Clearwater Middle School
2007
Tammisha Pearman and Rayjaun Seymour, East End Primary School
Lorina-Le Harvey and Ardon Heyliger, St. David's Primary School
Kayla Smith and Tyler Pitcher, St. George's Preparatory School
Fredricka Hill and Shomari Warner, Clearwater Middle School
Click to enlarge photos:

Read More About