A special assembly was held recently at East End Primary School to recognize fourteen students from P4-P6 for their participation in East End Primary's first Braille Club.
The students were recognized for their hard work, dedication and most importantly, their commitment, which spanned over a four month period. A short overview was given about the brainchild of the club, then participants were presented with certificates.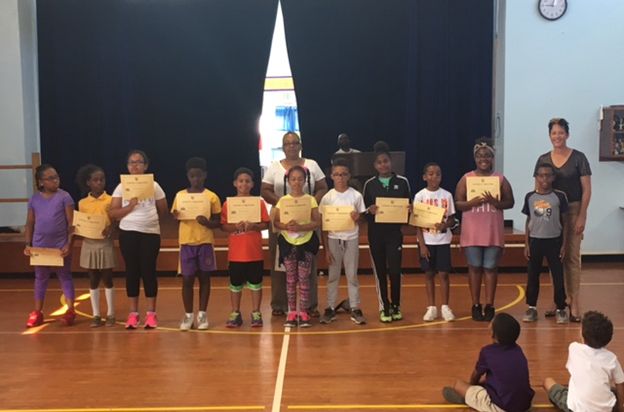 East End Primary School P6 Student Ronique Trott said, "One day, while prefecting in Primary Four, I noticed and observed Ms. Zuill assisting a student who was working on a Braille writer. I asked Miss Zuill about Braille and she explained it to me even though she was just learning about it herself.
"While standing next to Miss Zuill, I asked if we could have a Braille club at East End Primary. Miss Zuill discussed the idea with her Braille teacher, Mrs. Roberts, and the next day Ms. Zuill replied 'yes' – I was so excited!
"Finally, on January 31, 2017, Ms. Zuill started a Braille club at East End Primary with a total of 14 students who showed great interest and curiosity in learning Braille.
"Classes were held every Monday from 3:30 p.m. – 5:30 p.m. in the school's computer lab. Some of the students in P4 Stowe mentioned that they wanted to learn Braille so that they could help their visually challenged classmate or assist someone else in the community.
"During our braille lessons, Miss Zuill downloaded the Perky Duck on the computers which allowed us to learn Braille.  After participating in the Braille club from January to date, all participants, including myself, have had the opportunity to:
Research information and the biography of Louis Braille
Learn about the six main six keys in Braille
Practice the alphabet
Solve a 'Murder Mystery' by translating words to Braille
Solve Braille word search puzzles
Decode 'Secret Message Letters' in Braille
Write and read Braille (write Braille into words and words into Braille)
Make Mother's Day cards with poems in Braille
"Although this is my last year at East End Primary School, I am glad that I had the opportunity to be a part of the first Braille club at my school. Hopefully, Ms. Zuill continues the club in September so that other children will have the same opportunity and exposure to Braille as I had. 
"Maybe the idea of implementing a Braille Club will spread to other schools.
"A big thank you to Louis Braille for inventing Braille and an even bigger thank you to Ms. Zuill for giving up her personal time to teach us about Braille."

Read More About