[Updated: Police confirm that a 19-year-old man was injured in a stabbing incident outside Woody's]
A large police response headed to the west at sometime around 6.00pm this evening [May 2], responding to an incident in Sandys.
Unofficial reports suggest someone may have been injured, and the police have confirmed that there has been an "incident at Woody's" and said they will provide further details. We will update as able.
Update 7.05pm: Police confirmed that there has been a stabbing, with one person injured. We expect to receive a full statement later this evening.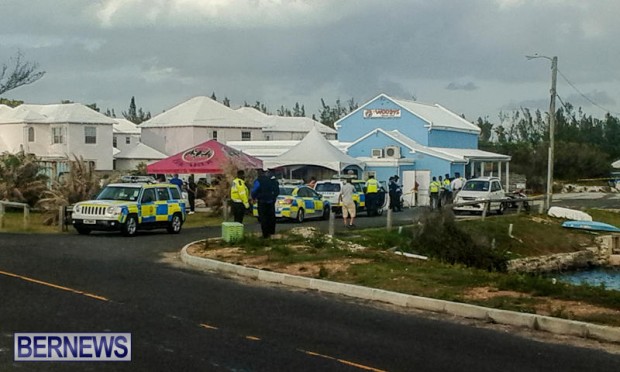 Update 8.12pm: A police spokesperson said, "Around 6pm on Saturday, May 2nd first responders were dispatched to a reported disturbance at Woody's Sports Bar in Sandys parish.
"It appears that an altercation took place outside the premises where one man was stabbed. The victim, believed to be a 19 year old male, has been taken to hospital for treatment; however the extent of his injury is unknown at this time.
"The Forensic Support Unit is currently processing the scene and inquiries into this incident are underway.
"Any witnesses are encouraged to contact the main police telephone number 295-0011 or the independent and confidential Crime Stoppers hotline 800-8477."
Update 8.43pm: Audio statement from Police spokesperson Robin Simmons
Read More About