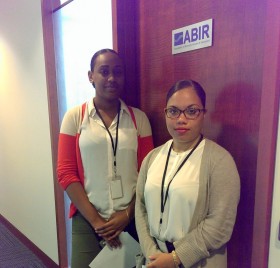 The Association of Bermuda Insurers and Reinsurers [ABIR] partnered with the Bermuda College to offer internships to two college students.
The internship is part of ABIR's community outreach initiative to demonstrate the benefits to Bermuda of international (re)insurance business and encourage the development of Bermudian talent for the Island's (re)insurance centre.
Bermudians Arisha Butterfield and Seta Douglas successfully completed the program on June 5.
ABIR Senior Vice President and Deputy Director Leila Madeiros said: 'We are pleased to have provided a challenging development opportunity for two dexterous individuals. ABIR has benefited from their hard work.'
"The students engaged in research projects central to ABIR's effort in representing 21 Bermuda-based international insurers and reinsurers. ABIR member companies together employ about 1,500 people locally and the combined workforce is 65% Bermudian.
The students received on the job experience and made a meaningful contribution to the organization.
About her experience Seta Douglas said: "I've gained a better understating of Bermuda's (re)insurance industry. It's been challenging at times but I've learned more about Bermuda and its role in the economic world. I've enjoyed this great opportunity."
Arisha Butterfield said: "I was delighted to have the opportunity to take part in the internship program at ABIR. I enjoyed working alongside staff, gaining knowledge and experience."
Elisha Huttick, Student Employment Coordinator at Bermuda College said: "Bermuda College was delighted to partner with ABIR to provide our students with this unique internship opportunity. Internships allow students to pair practical experience with the knowledge gained in the classroom.
"Students develop a better understanding of what traits and characteristics potential employers seek and employers are allowed to see potential hires in action. They also work to strengthen valuable partnerships within in the community."
Read More About