Digicel Bermuda has today announced significant price reductions on all smartphones when customers sign to a Postpaid Smartphone Plan with many phones now completely free.
"The discounts apply to all the bestselling phones from premium brands; including Samsung, Nokia, LG, HTC and Blackberry, and to their already highly affordable smartphones; Blu, Alacatel and Digicel's branded range. The level of discount varies by phone and increases with higher value plans, with most phones available free on selected plans, " the company said.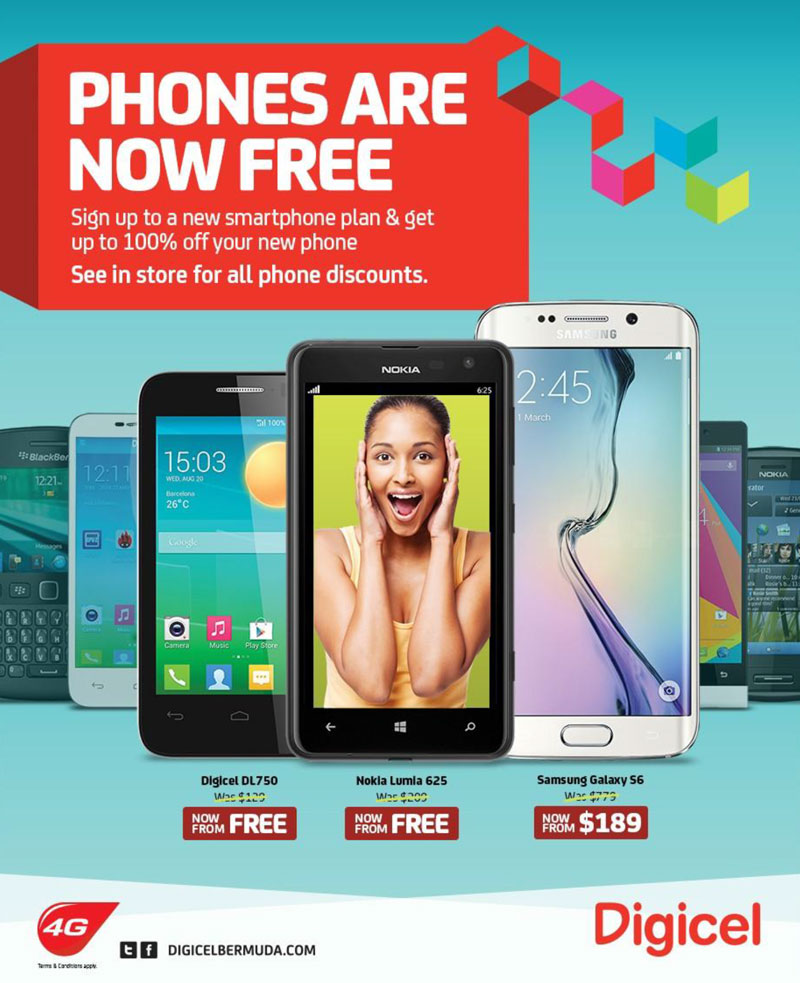 "The discounted and free phones are in addition to the best value already offered with the Postpaid Smartphone Plans including unlimited local calls and texts, big data bundles of up to 10GB per month, inclusive international long distance calls, roaming pass and millions of free music tracks through the streaming and download service Rdio – which is exclusively bundled with plans from Digicel.
"The free phones are available to new and existing Digicel customers subject to eligibility. There is no need to trade in an existing phone to benefit from the offer, but further discounts could be obtained by doing so. Unlike Refresh, this new Digicel offer sees no ongoing payments for the phone after the initial purchase, even if the purchase price is $0.
"Digicel customers looking for smaller plans [bundles of minutes, texts and data] can still enjoy phones for $0 down with Digicel's popular "Refresh" offer that allows customers to spread the cost of a phone over a number of months.
"This new offer from Digicel is in addition to their existing "Price Promise" which commits they will never be beaten on price for a phone or tablet."
CEO of Digicel Bermuda, Robin Seale has stated "We are excited to lead the market in Bermuda once again, this time by offering completely free phones with no ongoing payments for the device. It's a really tangible way of saying 'thank you' to our customers for their future service from us and further demonstrates Digicel's commitment to offering Best Value."
More information on how to get a discounted device including a full list of available handsets and pricing, can be found here.
Read More About
Category: All, Business, technology