Deputy Premier and Minister of Finance Bob Richards announced today that the Embassy of the Republic of Poland in London confirmed this morning that Bermuda has been removed from the Polish domestic list of countries of non-cooperative tax jurisdictions [in the field of Corporate Tax] and stated that the Polish Ministry of Finance has contacted the European Commission to confirm that Bermuda was no longer on Poland's "blacklist".
"Poland is one of the 11 European Union Member States that the European Commission used as its criterion to place Bermuda on the European Commission's Blacklist, the Ministry said.
"Bermuda and Poland signed a Tax Information Exchange Agreement [TIEA] which came into force March 15, 2015.
Minister Richards with H.E. Witold Sobkow-Ambassador for Poland signing the TIEA in 2013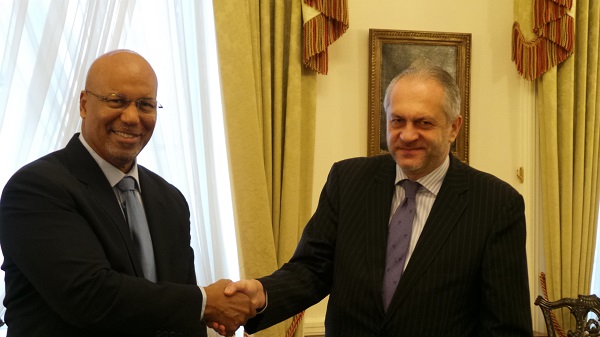 "Bermuda has also signed the Multilateral Convention on Mutual Administrative Assistance on Tax Matters, a multilateral TIEA that includes Poland.
"As an Early Adopter country Bermuda also signed another agreement, the Multilateral Competent Authority Agreement, in Berlin in October 2014 for OECD automatic exchange of information on the common reporting standard [CRS] in which Poland is a participant.
"This means that Bermuda currently has three international agreements with Poland for the exchange of information for tax purposes.
"Minister Richards is today in London for meetings ahead of arriving in Paris and Brussels later this week for meetings in Paris with the OECD Secretary General and Mr. Pascal Saint-Amans – Director, OECD Centre for Tax Policy & Administration, and, meetings in Brussels with members of the European Parliament."
The full communication [in Polish] follows below [PDF here]:
Read More About