An upcoming TechTalk discussion will centre around fraud and investigation. The event will take place on June 25 at the Royal Bermuda Yacht Club, with a reception at 5.30pm and the talk itself beginning at 6.00pm.
The panel will consist of Mathew Clingerman, Managing Director – KRyS Global; Brett Henshilwood, Partner, Enterprise Risk Management, Deloitte; Henry Komansky, Group Head of Anti-Money Laundering, Clarien; and Shan Senanayake, President, ISACA Bermuda Chapter.
The discussion will be moderated by Sheridan Smith, Director, Management Services/Information Technology, Bermuda Monetary Authority.
Attendance is free, and food will be provided alongside a cash bar and raffle prizes. One CPE credit available. RSVPs can be made to rsvp@isacabermuda.com.
The event poster says, "All organizations are subject to fraud risk. Large frauds have led to the downfall of entire organizations, massive investment losses, significant legal costs, and incarceration of key individuals."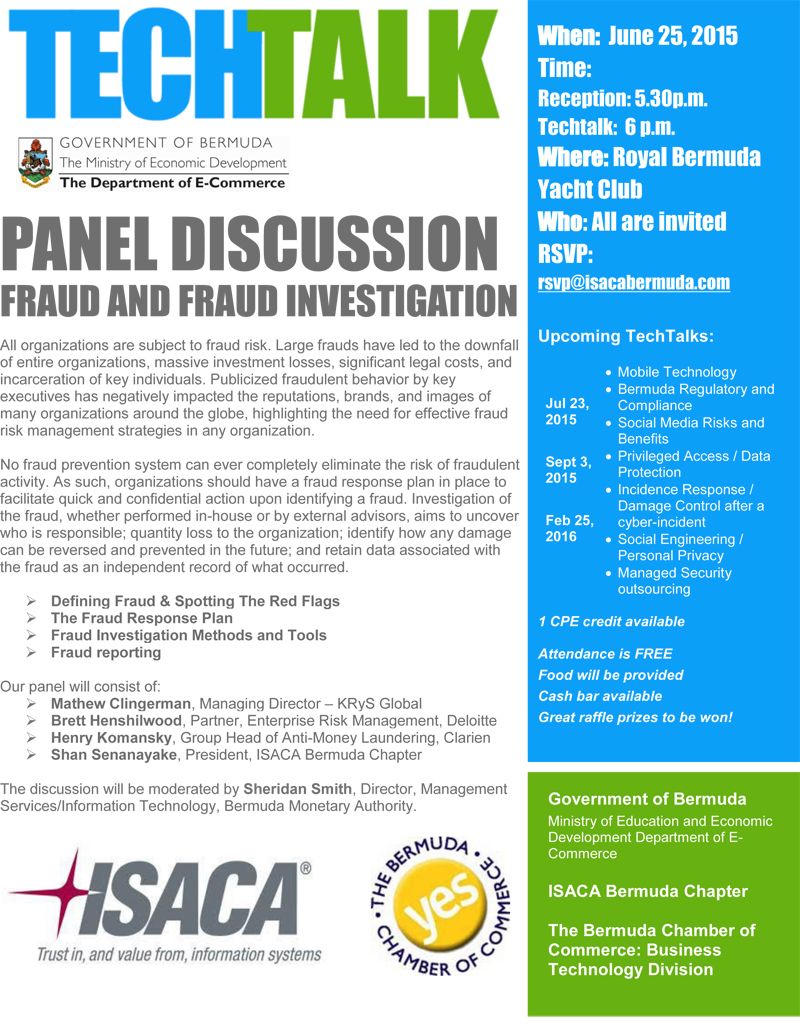 "Publicized fraudulent behavior by key executives has negatively impacted the reputations, brands, and images of many organizations around the globe, highlighting the need for effective fraud risk management strategies in any organization.
"No fraud prevention system can ever completely eliminate the risk of fraudulent activity. As such, organizations should have a fraud response plan in place to facilitate quick and confidential action upon identifying a fraud.
"Investigation of the fraud, whether performed in-house or by external advisors, aims to uncover who is responsible; quantity loss to the organization; identify how any damage can be reversed and prevented in the future; and retain data associated with the fraud as an independent record of what occurred."
Upcoming TechTalks include a July 23 discussion that will center on mobile technology, Bermuda regulatory and compliance, and social media risks and benefits.
A September 3 event will focus on privileged access and data protection, incidence response, and damage control after a cyber-incident.
On February 25, 2016, a TechTalks event will highlight the topics of social engineering and personal privacy, and managed security outsourcing.
Read More About
Category: All, technology