[Opinion column written by Larry Burchall]
Over the past fifty years, certainly since the 1960's, un-married and married Bermudian couples have chosen to have fewer and fewer children. This pattern is replicated throughout all the developed western economies, which includes Bermuda. This creates a huge problem for Bermuda.
Before the 1960's, in the developed western economies women had limited control over their bodies and their ability to avoid pregnancies. Since the 1960's, women have gained almost complete control of their bodies. Today's child-bearing age woman is far freer and far more in control of her body and her quality of life than her mother and grandmother.
The 2015 Registrar General's Report on births and deaths confirms that Bermudian couples and Bermudian single women have been making decisions about their quality of life. Most couples and single women realize the high and full cost of raising a child, so most have chosen to have fewer children.
For the first time, in 2014, the Registrar reported that more Bermudians died than were born. Happened again 2015. The numbers reported are 478 deaths in 2014 versus 441 births. For 2015, 457 deaths versus 437 births. In those two years, 57 more deaths than births.
Between 2014 and 2015, 878 Bermudians were born while 935 Bermudians died. Absolutely, this is a negative birth rate. Absolutely, Bermudians are now dying faster than they are being born.
Decisions about creating life are not made by statisticians, politicians, or economists. Instead, these decisions are made by the ordinary Bermudian women and Bermudian couples who you see every day.
Only 437 Bermudians were born in Bermuda in 2015. Assuming that 50% are female, then eighteen years from now, there will be – there can only be – 219 Bermudian women entering the child-bearing stage of life.
Statisticians, economists, and demographers tell us that – without immigration – in order to prevent a population decline in any national population, every woman in each new age cohort of women of child-bearing age must give birth to two children. If some women do not, then other women must have more than two children in order to compensate.
Thus those 219 Bermudian women born in 2015 must later have two babies each, thereby giving a birth cohort of 438 Bermudians; or some women must have more in order to compensate for their 'sisters' who choose to have none or one.
Clearly, absolutely, 'en masse', Bermudian couples and single women have chosen to have fewer babies than that minimum replacement two. These collective decisions by hundreds of unconnected couples and women results in today's entirely predictable situation – a negative birth rate. This is what the Registrar General reports for Bermuda for 2014 and 2015.
This means that as the years pass, without immigration, Bermudians – us lot – will disappear off our own coral atoll at 32n64w, North Atlantic Ocean. It may take a while, but without immigration, it is mathematically certain. It is also a problem that is affecting all of us now.
Until now, Bermudian policy-makers have dealt with this problem by granting Bermuda Status. Between Censuses 2000 and 2010, there were 1,818 grants of Bermuda Status. As far as I can learn, between 2010 and 2015, there have been just over 1,200 additional grants of Bermuda Status.
But even with this rate of granting Bermuda Status [the vast majority to spouses], the number of Bermudians is still dropping. Why? Because of un-measured Bermudian emigration and un-measured Bermudian student non-return.
Five months from now, the mini-Census now underway will tell us that in 2016, there were only about 50,000 [or fewer] Bermudians in Bermuda. If I am right, and I believe that I am, then we have a massive – but virtually invisible – national problem. The unfolding of this hard-to-see problem will help create a steep rise in social tensions that will be stoked and fired up by all the spooks and spectres from Bermuda's bad racial legacy.
In 2016, us Bermudians are – literally – a dying breed.
To show you exactly what the Registrar General is reporting, here is a chart showing Bermudian birth and death facts from 2006 to 2015.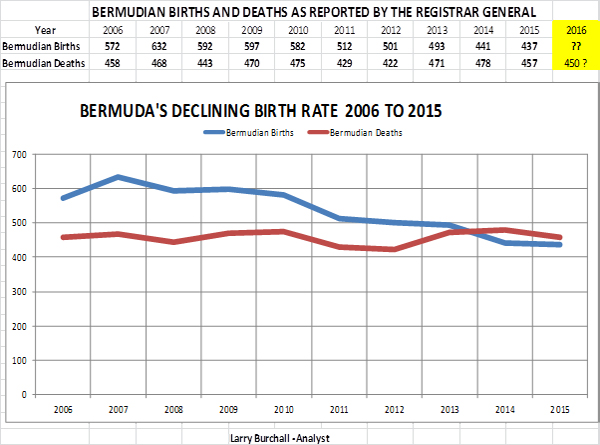 Note when the 'death' line crosses the 'life' line. Note the downward trend of that birth or 'life' line. The 'life' line is the outcome from hundreds of personal decisions by hundreds of individual Bermudian women and Bermudian couples. Note also how steeply downward it trended once the 2009 recession hit.
- Larry Burchall

20 Most Recent Opinion Columns

Opinion columns reflect the views of the writer, and not those of Bernews Ltd. To submit an Opinion Column/Letter to the Editor, please email info@bernews.com. Bernews welcomes submissions, and while there are no length restrictions, all columns must be signed by the writer's real name.
-
Read More About