[Opinion column written by Shari-Lynn Pringle]
If there's anything that the recent Bermuda social media debacle highlighted is that some people have too much time on their hands and not enough love in their hearts. During a month that I've tried to lay low on social media, it is extremely difficult to watch what is in play and not say something.
Don Burgess created a monster with his monthly social media rankings for excessive number of Twitter followers and another for the power of engagement aka Klout. So at times it is difficult to view some things that happen as genuinely breaking news or someone's attempt to break loose from the pack on the Bermuda Klout scale.
I've held the #4 Klout spot since July 2014 and for me it is effortless because I genuinely enjoy social media and it takes very little effort for me to mix and mingle, engage as it's called, with people who I have been consistently sharing with for many years.
The one thing that I'm most proud of is that my posts almost always come from a place of kindness. Young Eron Hill has used the words "Spurious, Highly Defamatory". I simply would say "unkind". Both of the recent pictures are simply unkind.
The Bras for Causes was an excellent, very quickly constructed, successful campaign bringing attention to legislation that would affect the frequency of mammograms. I don't think there's many a person in Bermuda that could not claim to have someone in their family or circle of friends who is not a survivor, a fighter or a victim of some form of cancer.
Slideshow of the 'Bras For Cause' protest
-
-
I'm not exempt and have been having annual mammograms since age 30. Ironically, yesterday [June 8] was annual mammogram #21. With bras strewn on the ground, in trees, around trees, around poles, over fences, etc. someone decided to take a picture of the Premier and Senator Baron and make an issue of them appearing to walk on perhaps 2 – 3 of the the bras as they made their way across the grass. People were asking why they couldn't just walk on the pavement. My immediate thought was maybe someone should have thought to put up "Do not walk on grass" signs.
If those bras were left overnight, out in the dampness, for bugs to land on and crawl over, for birds to crap on – so what if someone walked on a strap or padded cup? All sorts of kind things could have been said with this picture as a caption i.e. how the Premier made time to give some attention to the matter, how the Premier and Senator Baron got up close and personal with the bras, how breast cancer has affected them but instead the post was made with unkind intentions and thus with like-minded people it was like dropping a match in gasoline.
The Facebook post was made and the likes and comments poured in, political lines were drawn. Anyone who disagreed with what we were told the picture depicted was summarily dismissed or branded an OBA supporter. I simply would have preferred conclusive video.
And perhaps this is why the next picture was destined to create a similar social media stir. Standing alone – with 3 gents wearing bras that they either brought to the grounds with them or picked up off the ground and donned them [which was it because… ] – it was a fun photo and nothing out of the ordinary when it comes to showing support for breast cancer survivors, fighters and victims.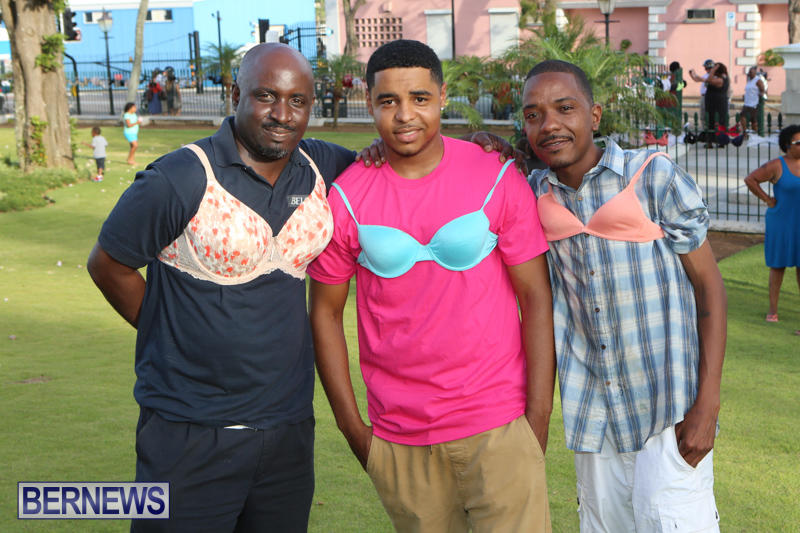 The picture took a turn for ugly when someone with an unkind heart added the text "Catherine Jenner". The Bras for Causes issue in Bermuda had nothing to do with Caitlyn Jenner or the transgender community.
And implying that the 3 gents were representative of that community or mocking transgender people would mean that someone didn't have an awareness of what was going on – or they did and thought they'd take an opportunity to be humorous at the expense of someone else. Simply unkind. And in this case unkind and cowardly as they sit back and watch what is going on as a result of their handiwork.
The One Bermuda Alliance, upon receiving this modified photo should have immediately paused and asked 1] who added the incorrect text and by virtue of it being incorrect, why pay it any attention and 2] in light of the good intentions of Bras for Causes in Bermuda is it in our best interest to add more gasoline and light another match. We know what happened.
Making fun of lesbian, gay, bi-sexual, transgender people [note I said transgender NOT transgendered] happens all the time on Facebook and Twitter and some of the biggest perpetrators in Bermuda do it because they just want attention. They'll quickly give the customary statement "well I have friends that are _____" and all is supposed to be forgiven.
Maybe if we just stopped doing things from a position of unkindness, we wouldn't have to speak about family/friends that you only mention when trying to justify something you shouldn't have done in the first place. If you are going to post something unkind ask yourself, is that someone's mother, father, brother, sister, daughter, son, cousin…. you get the idea … and remove your finger from the post button. However, if that's the only way you feel you can get the attention you need, carry on.
So what is needed to fix this mess? The offending tweets and posts should be removed. By way of an apology the One Bermuda Alliance should make an attractive donation to a local charity that supports breast cancer research, survivors and fighters.
If the PLP is so inclined, they should match that donation because they are, in my opinion, complicit in this. But if this issue isn't political – and is purely personal – perhaps a personal donation from all those inclined to be unkind and detract from the issue.Much more money is needed to fight this horrible disease and laying bras out on the ground might halt unpopular legislation but the fight for a cure continues.
- Shari-Lynn Pringle is a member of Two Words and a Comma which successfully lobbied Government to add sexual orientation as a protected ground under the Human Rights Act of 1981. She is an LGBTQ and Human Rights Advocate and social media aficionado.
Read More About