Three members of Team New Zealand have left in the last week as the America's Cup challenger continues to restructure and re-shape ahead of the sailing event in Bermuda.
A report in Sail-World.com says, "Key of these are long-time Chief Designer, Nick Holroyd, who joined the team in 1997 for the 2000 America's Cup Defence in Auckland and remained with the team through the rebuild in 2003 and led the design team in the 2007 and 2013 America's Cup Challenges.
File photo of Team NZ in action by Chris Cameron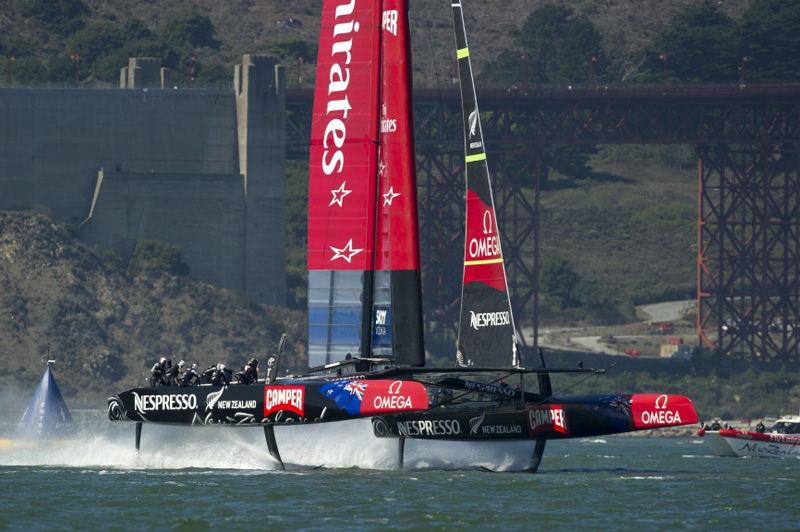 "Also confirmed to have exited are Winston Macfarlane and Derek Saward, both grinders who made the transition from the monohull America's Cup campaigns to the multihulled wingsailed catamarans. Team New Zealand denied there was any crisis situation and they were in business as usual today.
"Both Macfarlane and Saward were named in the seven strong sailing team after the shrink-down which occurred after the exit of former skipper Dean Barker who had been with the team since 1995.
"The three are not believed to be going directly to Softbank Team Japan, or any other team. However the chequebooks are expected to start circling now the departures are in the public domain.
"It is also believed that approaches have been made to Team New Zealand shore and support teams, along with those team members still on part-time contracts."
A statement from Team New Zealand said, "Nick Holroyd has resigned from Emirates Team New Zealand. However ETNZ does not wish to comment on personnel issues at this stage.
"We remain on track to mount a competitive challenge for the 35th Americas Cup and Grant Dalton is currently in Europe pursuing some very exciting opportunities for the team."

Read More About