Following the organisers saying that the "America's Cup competitors have agreed the format for racing in 2017," Emirates Team New Zealand released a statement saying they "did not agree on the format."
A statement the organisers released a few days ago said, "The America's Cup competitors have agreed the format for racing in 2017 with all racing taking place on the waters of the Great Sound in Bermuda."
"At our Competitor Forum meeting this week, the teams agreed on the details of our race program in 2017," said Commercial Commissioner Harvey Schiller.
However a statement posted on social media by the New Zealand team said, "The America's Cup Event Authority announced over the weekend that the America's Cup event format was agreed by competitors and that all racing will take place in Bermuda.
"Emirates Team New Zealand would like to clarify we did not agree on the format or location of the qualifier because we have still have our case for the previously agreed qualifier in Auckland pending arbitration."
Photo of Team NZ in action by Chris Cameron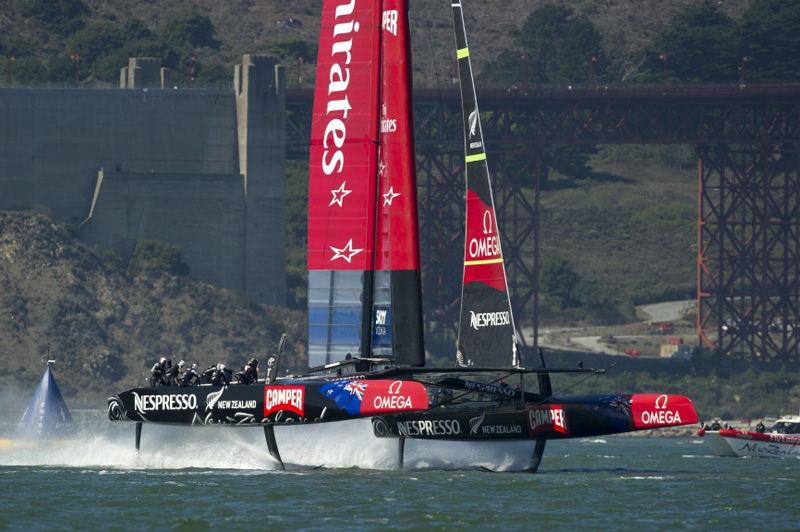 Right now there are five teams scheduled to compete: defending champion Oracle Team USA, Artemis Racing from Sweden, Ben Ainslie Racing from Great Britain, Emirates Team from New Zealand, and Team France.
There were originally six teams slated to compete, however the Italian team Luna Rossa withdrew earlier this month in protest over rule changes.
Following the Italian's withdrawal, New Zealand said they were "deeply saddened by the news of the withdrawal" adding they and Luna Rossa are "close allies and share common values of fair play and integrity."
New Zealand Team CEO Grant Dalton said, "We are quite frankly in disbelief that the continued actions of the America's Cup Event Authority have lead to the withdrawal of our great friends Luna Rossa.
"It sends a clear and unmistakable message that the self-serving manoeuvring of rules within sports oldest trophy has consequences for not only the America's Cup but also all of sailing. "
"Emirates Team New Zealand have filed its case on the illegal withdrawal of Auckland as the qualifier regatta venue with the America's Cup Arbitration Panel and will be making no further comment at this time."

Read More About