On June 23rd the Minister of Tourism Development and Transport Shawn Crockwell delivered opening remarks and welcomed the overseas delegates attending the 25th Annual Red Ensign Group [REG] conference that the Bermuda Department of Maritime Administration is hosting.
The opening ceremony took place at the Town Hall, in the Town of St. George's and was attended by the Mayor St. George's Quinell Francis, the visiting delegates, the Permanent Secretary for the Ministry of Tourism Development and Transport Francis Richardson as well as the St. George's Town Crier.
The Red Ensign Group Conference held this week with British Shipping Registers from the United Kingdom, the Crown Dependencies [Isle of Man, Guernsey and Jersey] and the UK Overseas Territories [Anguilla, Bermuda, British Virgin Islands, Cayman Islands, Falkland Islands, Gibraltar, Montserrat, St Helena and the Turks & Caicos Islands] which operate shipping registers from their jurisdictions.
The Minister and Mayor joined by the delegates for the conference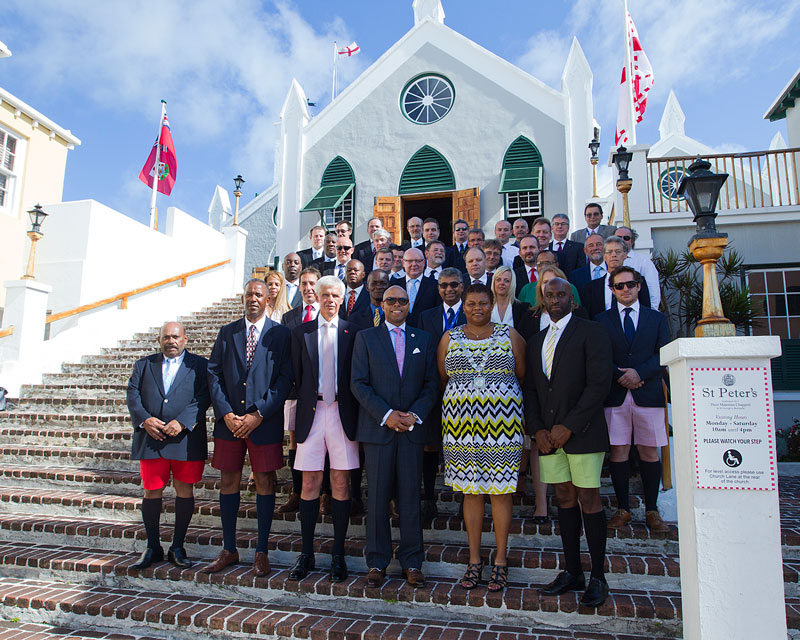 Delegates from Anguilla, the Cayman Islands, Falkland Islands, Gibraltar, Guernsey, Isle of Man, Jersey, British Virgin Islands and Montserrat were in Bermuda for this conference.
The conference was co-chaired by Sir Alan Massey, Chief Executive, UK Maritime and Coastguard Agency and Capt. Pat Nawaratne, Chief Marine Surveyor of the Bermuda Department of Maritime Administration.
Minister Crockwell said, "Considering the different locations and diversity of the Red Ensign Group, it is not an easy task for the United Kingdom alone to shoulder the flag State responsibility over one of the largest and sophisticated shipping fleets of the world.
Red Ensign Group Conference Opening
"In this regards the Red Ensign Group Conference plays a large and vital role in sharing and supporting the UK Administration in meeting its flag State responsibilities, and also at the same time each REG member meeting its own responsibilities as a flag Administration.
"This initiative of holding regular REG conferences has helped in achieving and maintaining the high standards and the reputation that our ships enjoy today.
"This conference is the forum for discussing and developing high level policies, and procedures relating to the implementation of complex international maritime conventions, maritime law, seafarers' qualifications and standards and working and living conditions on board ships."
"I believe the very first Red Ensign Group Conference was held in Bermuda in 1992, and it has been a success story since then, this is the 4th time this conference is being held in Bermuda, and the Government of Bermuda is very supportive of the important work carried out by the Conference. I wish the Chairman and the Delegates a successful and fruitful Conference. "
Read More About