Tristan Burgess — a Westgate inmate serving a 12 year sentence for armed robbery — says his mindset has changed and he's decided to take a positive direction in life; with the young man taking GED classes and learning gardening skills, with the aim of starting his own business when he is released.
"When I first came to Westgate it was just like…it didn't really matter that I was here, I wanted to keep doing what I was doing," Mr Burgess said.
"But after time goes on you realize that you want to change and your mind changes, and the things that you want to do in life change. For me it started with myself, thinking that I want to change for my daughter, for my family and moving along on that route.
"I started getting involved in classes. I started doing a lot of work, playing football. After a while I figured out that I wanted to do gardening. I started gardening and just kept going and never looked back.
In describing how he first started getting into trouble, Mr Burgess told Bernews, "I got kicked out of school and from there I started hanging out in the streets and I got myself into mischief, and then I ended up in jail for twelve years."
However, Mr Burgess says he no longer wishes to follow that path, explaining that since he entered prison he has started a garden and started doing GED classes, saying: "I'm just in the garden working, trying to stay focused and out of trouble."
"Right now in the garden we've got squash, watermelon, corn and tomatoes and some beans are coming up now. By the time that grows my progress will be still going," he said.
Mr Burgess looks at his garden that he is maintaining in Westgate: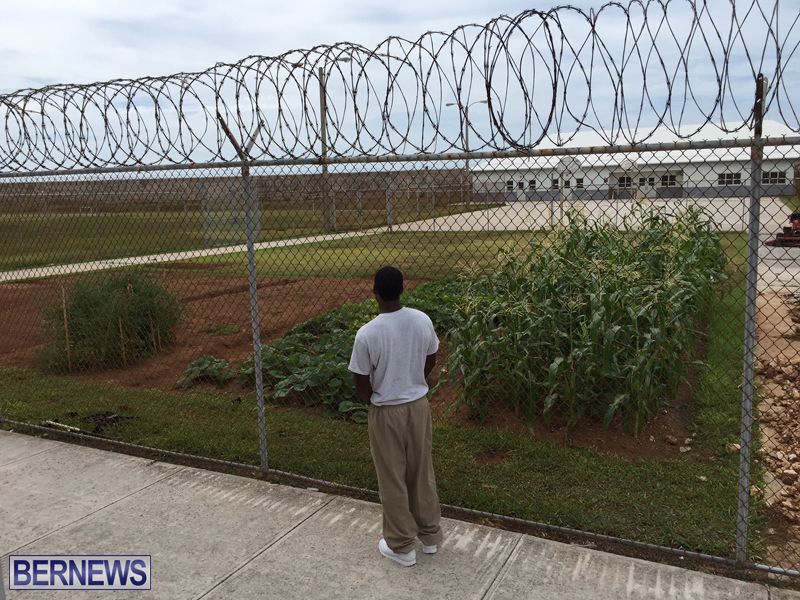 Mr Burgess, who was 19 years old when he was first incarcerated, is currently taking GED classes saying he is "working slowly but making progress at the same time."
"It's all about disciplining yourself to take the classes and staying focused on what you want to do in life instead of just bouncing around and being in the streets and trying to get drugs or whatever," said Mr Burgess, adding that he is trying to do some agricultural classes so he can start a business when is released from prison.
"Being here and watching my daughter grow up is kind of hard, being that I can't be there for the little moments in her life and those memories that you can't get back. I decided to stay focused and get myself out of here and not come back," Mr Burgess said.
"Being that I'm here for twelve years, I decided that this wasn't my life so I decided to change and make progress so I developed this mind status, like if you want change you've got to start with yourself, instead of depending on other people to help you change.
"I just changed my mindset, changed the things that I do and decided to just move forward with myself even if nobody wanted to help me.
"In the meantime I'm just trying to get all the young people follow the correct path, instead of leading the same path I just led and end up here for more time for the same crime or stuff like that.
Brief audio excerpt of Mr Burgess speaking with Bernews:
"Being an inmate isn't a nice thing, but it's just like you're trying to progress and you're trying to make a change for yourself, for the better of yourself and your family. You've just got to stick to it and just stay focused even though some days are different.
"It all starts with what you want to do in life and just saying focused and just not losing focus on what you want to do because at the end of the day it's your life, it's your time.  Just stay focused.
"Growing up without a father, and a male role model in my life. I had to defend for myself and make things happen for myself whether it was right or wrong, but then as I grew older and I had a child I decided that it's all right, I'm going to make the right decisions based off what I needed for my daughter and what my family needs from me."
"It all starts with being a man," said Mr Burgess. "You've got to grow up and be a man about everything."
Read More About