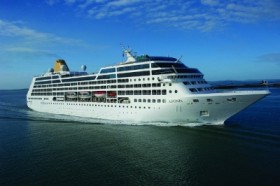 Carnival Corporation announced that the U.S. Department of the Treasury and the U.S. Department of Commerce granted approval for the company to begin travel to Cuba.
"Carnival Corporation intends to take travelers to Cuba beginning in May 2016 via its newly launched fathom brand – a new social impact travel brand providing purpose-oriented, social impact experiences, initially in the Dominican Republic," the company said.
"Carnival Corporation intends to operate fathom travel itineraries directly to Cuba for the purpose of providing cultural, artistic, faith-based and humanitarian exchanges between American and Cuban citizens.
"Authorized under current U.S.-to-Cuba travel guidelines, the new Cuban itineraries on fathom will strictly comply with U.S. Department of Treasury rules that allow licensed travel companies to transport approved travelers to Cuba to engage in activities that support the Cuban people. Carnival Corporation is in active discussions and plans to work with the appropriate authorities in Cuba so that Cuban approval is granted."
"We are excited about receiving U.S. approval as the very important first step to ultimately take travelers to Cuba under the existing 12 criteria for authorized travel," said Arnold Donald, President and CEO of Carnival Corporation.
"We look forward to working with the Cuban authorities for their approval to help make the social, cultural and humanitarian exchanges between U.S. citizens and the people of Cuba a reality."
"We know there is strong demand from travelers who want to immerse themselves in Cuban culture, so this is a historic opportunity for us to enable more people to experience Cuban society.
"It is also an important opportunity for our new fathom brand to expand its positive influence in the world with this potential to add full-week immersion sailings to Cuba to its already planned full-week social-impact itineraries to the Dominican Republic beginning in the spring of 2016."
The Caribbean Hotel and Tourism Association [CHTA] position paper on the impact on Caribbean tourism due to the opening of travel to Cuba for U.S. citizens said "the opening of Cuba will have an immediate impact on the cruise industry."
The paper said, "The cruise sector which has been lobbying the wider Caribbean to develop products and experiences beyond sun and sea, gives Cuba an opportunity to present itself as a more diversified destination."
"The major cruise companies have a well-established track record of successfully investing in new port infrastructure, and quickly establishing new or improved ports of call," the CHTA added, and the "likelihood that cruise lines will drop some existing ports to accommodate Cuba port visits is real."
In response to the paper, the Bermuda Tourism Authority's Chief Investment Officer Andy Burrows said, "Like the Caribbean Hotel & Tourism Association, we believe Cuba's inclusion as a direct visitor destination for American travellers will have a sizable impact on many tourism industries, including Bermuda's.
"However, also like the CHTA, we believe the impact is less pronounced the further the destination is from Cuba geographically. As everyone in Bermuda knows, our destination is not geographically in the Caribbean. Our position in the Atlantic provides some insulation.
"For example, we feel it is unlikely that cruise lines with established and valued itineraries to Bermuda, from ports such as New York and Boston, would be inclined to change their itineraries to Cuba. The geography of such a move would be very difficult from a business point of view."
"However, Cuba should not be ignored," Mr Burrows added. "We think the CHTA's paper is a reminder to all of Bermuda that we must redouble efforts already underway.
"As every country in the Caribbean region begins and/or redefines its tourism strategy to become more competitive, Bermuda as a whole will need to continue to embrace tourism as the key driver for foreign direct investment, especially in hotel development and redevelopment."
Read More About
Category: All