U.S. President Barack Obama announced sweeping changes to U.S. policy with Cuba today [Dec 17], moving to normalize relations between the two nations, including facilitating an expansion of travel to Cuba.
Under the new measures, the United States plans to reopen its embassy in Havana and significantly ease restrictions on travel and commerce.
"With the changes I'm announcing today, it will be easier for Americans to travel to Cuba, and Americans will be able to use American credit and debit cards on the island," President Obama said today.
According to a report from travel industry website Skift, "With news that the US and Cuba will start talks on normalizing full diplomatic relations after 50 years of hostility, the flow of Americans into Cuba will likely increase dramatically.
"While the proposed easing of travel restrictions won't necessarily allow for regular tourism, it is expected to make it easier for Americans to obtain a business license in the country, as well as to travel there."
Screenshot from the official White House website showing the new travel policies: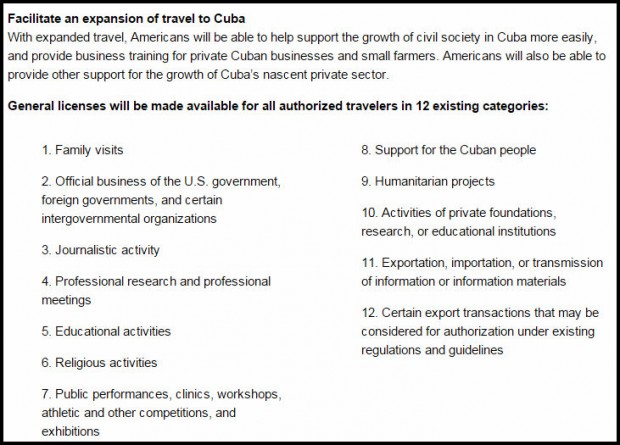 President Obama said, "In the most significant changes in our policy in more than fifty years, we will end an outdated approach that, for decades, has failed to advance our interests, and instead we will begin to normalize relations between our two countries.
"Through these changes, we intend to create more opportunities for the American and Cuban people, and begin a new chapter among the nations of the Americas."
"The history-shaping overtures come after more than 18 months of secret negotiations with the Cuban government of President Raul Castro," according to a report from the Washington Post. "The final touches appeared to be arrangements for a series of simultaneous prisoner releases.
"Cuba agreed to release Alan Gross, a U.S. Agency for International Development contractor imprisoned for five years, on humanitarian grounds. The Cubans also released an unnamed U.S. intelligence asset held for two decades, and in exchange U.S. officials released three Cuban nationals convicted of spying in 2001."
President Obama's address today on the changes to the US/Cuba relationship:
"Change is hard –- in our own lives, and in the lives of nations. And change is even harder when we carry the heavy weight of history on our shoulders," added President Obama.
"But today we are making these changes because it is the right thing to do. Today, America chooses to cut loose the shackles of the past so as to reach for a better future –- for the Cuban people, for the American people, for our entire hemisphere, and for the world."
According to the latest statistics from the Caribbean Tourism Organization [PDF], Cuba — which has a population of over 11 million people — is the second-most visited island so far this year, with 2,222,793 visitors from January to September of this year.
Read More About