[Written by Don Burgess]
First-time St. George's Cup Match captain OJ Pitcher made a bold prediction that not only will his team win the Cup, they will do it by 5:30pm on the second day.
The skipper knows his squad has to bowl out Somerset twice and believes he has enough fresh faces to last well into Friday to get a triumphant win at Wellington Oval.
The squad returns just five players from last year's team and both the captain and vice captain George O'Brien are new.
"It's a great honour to be captain for St. George's," Pitcher said. "It shows the faith they have in me."
Pitcher added the fact that he doesn't play for the club team in the league ramps up the belief St. George's has placed in him. It's that same belief he places in the rest of the team to produce a victory.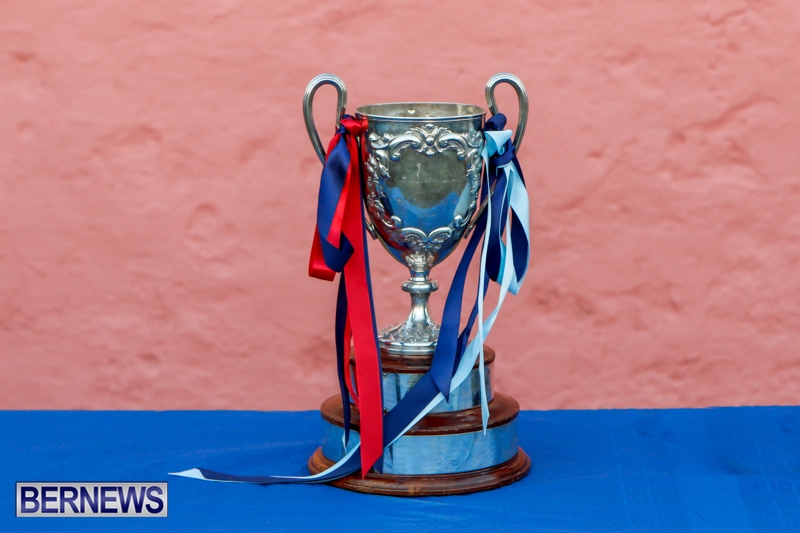 "We have a great chance. We have guys that have come in [to the team] that can do the job that second day. That was our only downfall last year. We have guys like Stefan Kelly, Damali Bell, and Kyle Hodsell who can bowl all day.
"Kyle was with us last year but that was a batting wicket and this year it will be more of a bowling wicket."
The skipper also had high praise fast bowler O'Brien and feels the two will be in sync to help produce a winner for St. George's.
"We're very close friends off the field. George knows the game and is a student of the game. He knows his stuff. He will be the perfect vice captain."
Pitcher said even though there has been a lot of rain over the past week, if the next few days produce clear skies, the wicket should deliver for them.
"If we get the sun, we'll be all right," he said. "If we get the weather we want the rest of today and tomorrow, we'll have the wicket we want on Thursday. Hopefully, the rain will hold off."
If they win the coin toss, the weather will also determine if St. George's bats or fields.
"I have in mind what I want to do and have been in talks with a few of the coaches. There are still a few things I want to finalize but on the day we will make a final decision, but that all depends on the weather."
He said the batting order has been set, barring some unforeseen injury during the game.
He said the pressure of being a first time captain trying to win the Cup back hasn't bothered him at all.
"I'm looking forward to the challenge. I 'm used to it. I've been to used to many pressure situations, not just in Cup Match as a player but as captain of my team St. David's in the regular league. It's a challenge I am willing to take on."
He said in order for St. George's to claim victory the bowling has to be spot on and they have to take the catches when they are there.
"We have to take 20 wickets, everyone knows that, but we also have to take our chances. There are certain guys on that team we can't give a second chance to get a big score.
"But cricket is played on the field and we are definitely ready for these guys. We'll have the Cup on 5:30pm on the second day."

Read More About